St Anne (Stanley) Child Protection Statement
St Anne (Stanley) C of E Primary School ensures children learn in a safe, caring and enriching environment. Children are taught how to keep themselves safe, to develop positive and healthy relationships, how to avoid situations where they might be at risk including by being exploited.
The school also has a statutory responsibility to share any concerns it might have about a child in need of protection with other agencies and in particular police, health and children's services. Schools are not able to investigate child protection concerns but have a legal duty to refer them. In most instances the school will be able to inform the parents/carer of its need to make a referral. However, sometimes the school is advised by children's services or police that the parent/carer cannot be informed whilst they investigate the matter. We understand the anxiety parents/carers understandably feel when they are not told about any concerns from the outset. The school follows legislation that aims to act in the interests of the child.
The school will always seek to work in partnership with parents and other agencies to ensure the best possible outcomes for the child and family.
The school's safeguarding team are Mrs Simons, Mrs Lovell and Mrs Riley. Please contact them on 0151 228 1506 if you have any concerns regarding a child or need any support.
Alternatively please call Careline (Children's Services) on 233 3700.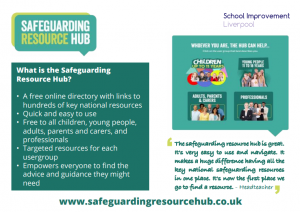 CP Policy COVID19 appendix January 2021
Safer Recruitment Policy and Procedures October 2023
Safer Working Practices Code of Conduct for Adults – September 2022
Guidance for safer working practise for those working with children & young people in education settings Feb 2022
Managing Allegations against Staff and Volunteers 2023
Safeguarding Advice for Visitors and Volunteers 2022
AUP Staff-Governors-Volunteers 2022-23
AUP Visitors and Contractors 2022-23
Positive Parenting – A Handbook for Parents and Carers
Understanding Relationships and Health Education in Primary School – A Guide for Parents and Carers
The Children's Society child abuse poster
English safeguarding leaflet – WEB
NSPCC THE UK'S LEADING CHILDREN'S CHARITY, PREVENTING ABUSE AND HELPEING THOSE AFFECTED
NSPCC UNDERWEAR RULE GUIDE FOR PARENTS
NSPCC UNDERWEAR RULE GUIDE FOR PARENTS OF CHILDREN WITH LEARNING DISABILITIES
NSPCC UNDERWEAR RULE FOR PARENTS OF CHILDREN WITH AUTISM
NSPCC SHARE AWARE PARENT GUIDE
NSPCC UNDERWEAR RULE FOR CHILDREN
NSPCC TALK PANTS WHY IT IS IMPORTANT
Eyes Open, Child Criminal Exploitation pocket guide
https://tacklechildabuse.campaign.gov.uk/
BARNARDO'S FAMILY SPACE – virtual family hub offering information, advice and support for all stages of your parenting or caring journey
BARNARDO'S 'LOVE ROCKS' RESOURCES
REPORTING OF FEMALE GENITAL MUTILATION
DIVERSITY ROLE MODELS St Anne's Primary School Report
Child Sexual Exploitation Resource List
Domestic Abuse – Information Booklet
Supporting-young-people-online
Road Safety with Salman & Friends
Guidance for parents and carers on safeguarding children in out-of-school settings
Information for parents choosing an after school club, community activity or tuition
Further information about safeguarding can be found at Liverpool Safeguarding Children Partnership (LSCP)