Photograph Album
We have discovered a photograph album from 1950.
Have a look at the pictures and show them to your family and friends.
Do you know anybody who came to St.Anne's in 1950?
We would love to hear from you to find out about what our school was like then.
Are you a past pupil of our school?
Do you have any old photographs that we could share on our website?
Do you recognise anybody on these photographs?
Please let us know!
Alan Frear
Alan Frear contacted our school after seeing some of our old photographs on our website.
He was a pupil at St. Anne's between the years of 1950 and 1960.
When looking through our photographs, he recognised his brothers, some friends and a work colleague who he had worked with for over 25 years!
Many thanks to Alan for getting in touch and sharing these lovely photographs with us.
It was nice to see the photos, in the 'history' section of your website.
Here's an image of a photo I have, from 1937.
My grandfather, Eric Elmer, is in the middle of the bottom row, holding the ball.
One of the teachers also appears in your 1936 photo.
Hope it is of use.
Best regards,
Karl Jacobs.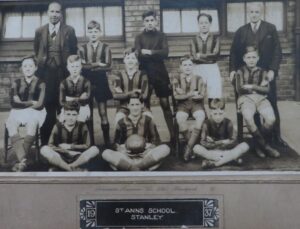 Britannia
This photograph has been sent to us by a past pupil of our school, Christine Robertson (nee Grimshaw).
It shows her dressed up as Britannia, at the Coronation school pageant in June 1953.
Many thanks to Christine for sharing this photograph with us.
Thank You Mrs Garner!

Mrs Garner gave us this photograph of her dad and his twin brother taken in 1936.
Her dad is on the front row, third from the right and his twin brother is first on the right.
The second photograph shows Mrs Garner's brother in 1960. He is also on the front row, second on the right.