Welcome to Year 4K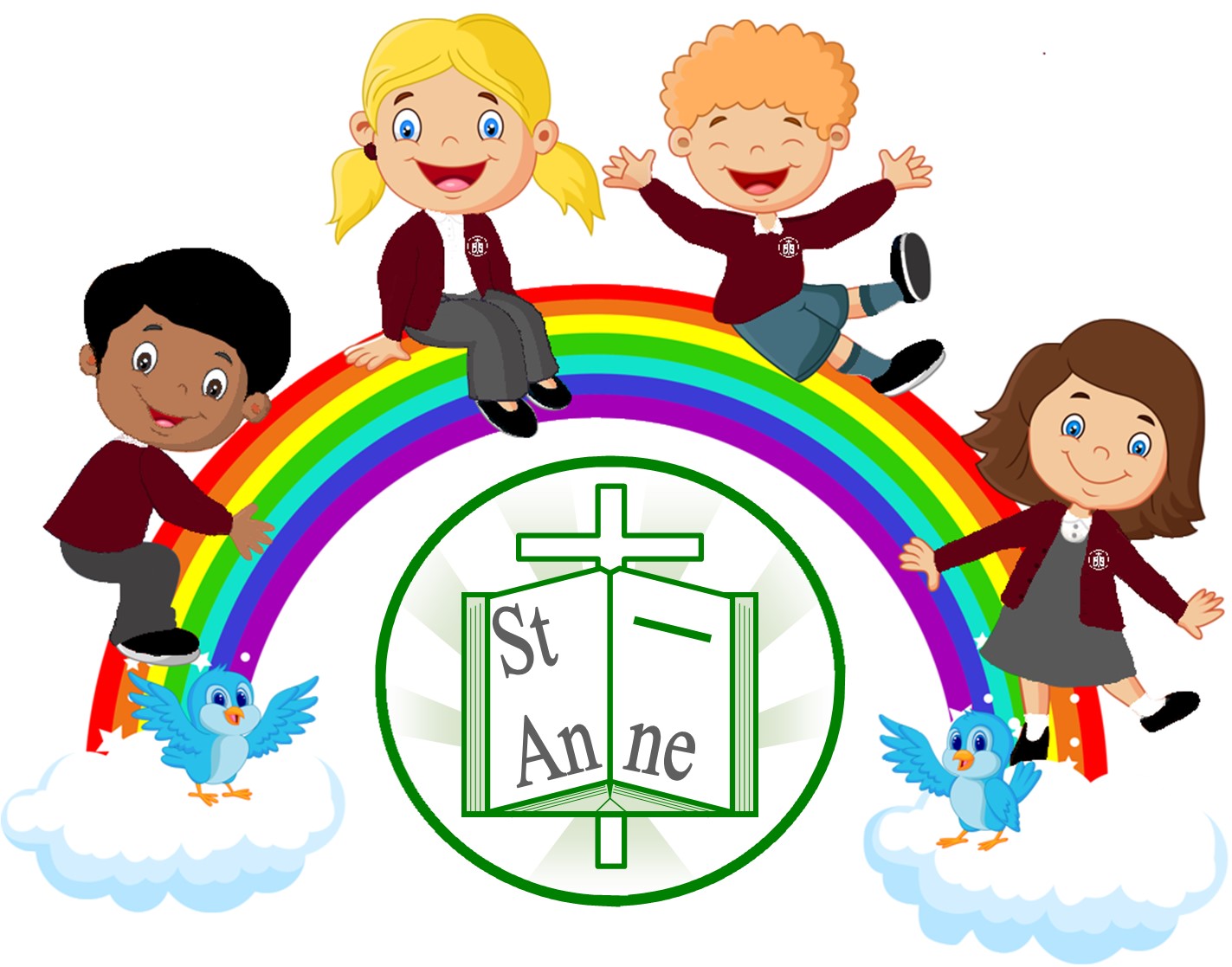 WELCOME TO CLASS Y4K
Year 4
Teacher: Mrs Kenwright.
Teaching Assistant: Miss Bristow.
PE is every MONDAY. Please ensure your child is dressed in their P.E. tracksuit on this day.
Your child is registered to use TT rockstars – an online fun resource, which will support with learning their Times Tables. Please encourage your child to access this daily.
We have registered your child to use Reading Plus, a really lovely online resource that has a wealth of literature for your child to read at their level. This will support their reading accuracy, speed and comprehension skills. Please encourage your child to access this at least 3 times per week.
Your child is registered to use MyMaths, an online platform where you will find tasks and activities that support your child's learning of mathematics. Please follow the link above. You will find your child's login details in their reading record book.
Words of the week – we are introducing our children to new vocabulary every week. These words will be sent home on a weekly basis. Please ask your child what they mean and encourage them to use them as often as possible when speaking.
Please encourage your child to read a few pages of their reading book every night. We love to read in our school and believe 'The more you read, the more things you will know. The more that you learn, the more places you will go'
A child
A book
A read
A chat
That is the way the mind grows
Not with a test, but a tale…
Michael Rosen
For information about how we teach Phonics in school and how you can support your child at home please Click here for the Phonics Page
How-to-login-as-a-child-to-Google-Classroom-for-the-first-time-3
Year group Curriculum Map year 4 2021-22
Don't forget to use your 'City Pass' to log onto Education City. Click on the link below.

Important Dates
Letters from Mrs Simons
Letter to Parents-Dates for the Diary
AUTUMN TERM 2021
We have been doing an Experiment in Science for our topic of Human Nutrition using eggs!!! What do you think we have been doing?
We haven't been eating them!!!!
We used eggs to represent our tooth enamel and put them in different liquids for a week to see what would happen. We used:
Water, Vinegar, Cola, Milk and Orange Juice.
We left one egg with no liquid in to make it a fair test. Look at our Results below. Can you guess which egg was placed in each liquid?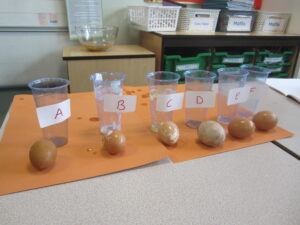 Art – Soap Sculptures in the style of Barbara Hepworth
We have been inspired by Barbara Hepworth and her Sculptures. We used lots of skills to carve our own sculpture out of a block of soap! It was very tricky to do and we got through quite a few bars of soap. We realised if we carved it too deeply, our soap would break and we had to start all over again. We learnt lots of skills in this lesson including how to be patient and to take our time to produce our masterpiece!
Reading Plus Star of the month for October!
Well done to Jamie who was nominated by his teacher – Mrs Kenwright for Reading over 50,00 words in Reading Plus between September and October. He has won a £25 book voucher and a trophy from the Reading Plus Team. We are very proud of him and the Challenge is on with the other children trying to beat him! Watch this space!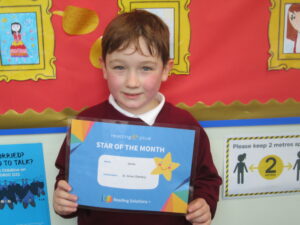 Christingle making in Religious Education
We have made Christingles in class for our RE topic of Jesus being the light of the World! Did you know that the first Christingle was introduced in Germany in 1747. The first Christingle Service was held in the United Kingdom in 1968 to raise money for the Children's Society. Christingle actually means Christ's Light. We know the meaning of each part of the Christingle. Ask us and we will tell you!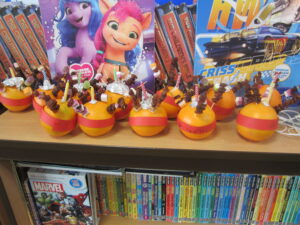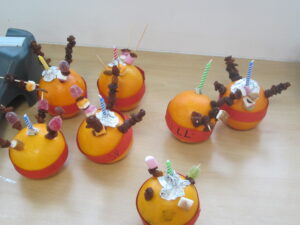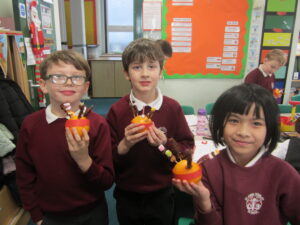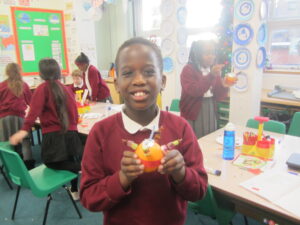 Mince Pie making with Mr D from Classroom Kitchen!
We really enjoyed making a mince pie today with Mr D. We made our own pastry and they were really tasty! Some of us are keeping them in the freezer for Santa on Christmas Eve!
SPRING TERM 2022
FEBRUARY 2022
On Friday 4th February, we enjoyed a visit to Lady Lever Art Gallery in Port Sunlight. This was linked to our Art Topic of Sculpture. We enjoyed following a Trail around the gallery and investigating lots of the Art work in the many rooms. We also had a walk around Port Sunlight Village and looked at the lovely houses. We even had a go telling the time on a Sundial.
River Park Port Sunlight
After our visit to the gallery, we went to The River Park and walked to the summit. We could see the famous skyline of Liverpool! It was very windy!!
Mental Health and Well-Being Week 7th-11th February 2022
We have enjoyed lots of activities this week from Altru Drama for E-Safety, Zumba and Pilates to name a few!!!
On Thursday, we had a visit from George and his friends from 'Yellow House'. They helped us to practise our teamwork and friendship skills. We had lots of fun, while thinking more carefully about the feelings of others.
Our Final workshop was on Friday with Donna Palmer. She taught us all about Rainbow smiles. We learnt it is good to be different. We had a great time and enjoyed the story and playing the Boom Whackers! We learnt how to remember the colours of the Rainbow ROY G BIV! Do you know the colours of the Rainbow?
Family Service
We enjoyed performing our Family Service on Wednesday 16th February in St Anne's Church. It was all about Words and how we can use them. We learnt they can be used in a nice way or to make people upset. We also thought about using our devices and what we say online, can also make people feel different emotions. We enjoyed singing Our God is a Great big God and The Power in me. Our Families really enjoyed this final song!. We hope everyone will use their words wisely.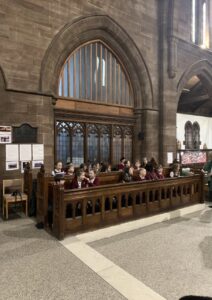 Making Recycled Maracas in Art
We enjoyed using Recycled materials to make a Maraca in Art. We used repeating patterns for our finished design. We filled it with rice and enjoyed testing them out in class. Mr Lucas would be proud of us!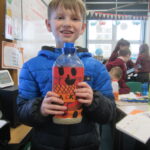 World Book Day March 2022
We have enjoyed lots of activities this week for World Book Day. On Tuesday, we had a visit from Alice from Altru Drama who did some amazing drama with us and helped to bring books to life in our imaginations. We really enjoyed it!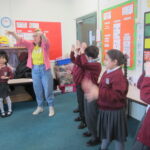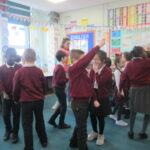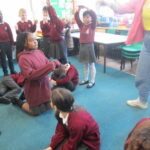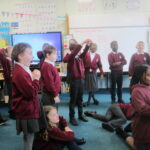 World Book Day Costumes
How many different Characters can you spot?
Mad Science!
We had a visit from Scientist Sarah from Mad Science (3/3/22) who did some amazing experiments with us! We loved it!
Auriga Star Dome comes to St Anne's!
We enjoyed a visit with the Auriga Star Dome in the school hall it was amazing! We learnt all about the moon landings and watched the first man land on the moon. It was a fabulous experience to end our British Science Week events!
Art work inspired by Nigerian Sculptor 'El Anatsui'
We used recycled bottle lids to create our pictures as we were inspired by 'El Anatsui'. We thought about patterns and colours and worked as a team to create our finished masterpieces. We are very proud of them and they are displayed outside our classroom door.
Looking at Victorian Features in our Local Area
We have taken a walk around our area of Old Swan and the streets closest to school to look at some of the Victorian features on the buildings. We saw lots of Date stones, Barge boards, Terraced houses and Bay Windows!
Summer Term 2022
Air Quality Monitoring Project
Some children enjoyed taking part in a project with Liverpool City Council and Imperial College London to monitor the air quality around our local area. They used a portable air pollution monitor inside a backpack, in which they used as their school bag for a week. We were then given the results by Shannon to see the quality of air around us!
SOUND BITES in SUPER SCIENCE!
We have been looking at Sound in Science this Half Term. We have learnt how Sound travels. Our table groups thought about an experiment that would show this. We decided to make a string telephone and look at the differences between a long, tight string, a short, tight string and a wavy string. Ask our class to tell you what we found out? We had lots of fun trying them out in the playground!