My Profile and vision – Miss Quinn.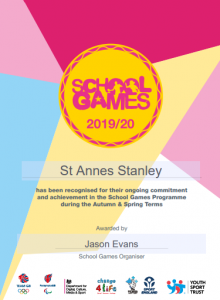 Physical Education has always played a huge part in my life. Before I could walk my family had me in a sporting community, from watching and attending sporting events, to eventually taking part. My dad used to take me to watch Everton from a young age and I haven't stopped since. Going to both home and away games, I still continue to support them. I even work as a steward for Everton during the weekend. I am sure you know already – I am dedicated.
My love of all sports began at a very young age. When I was five years of age I was already in a football team – and have continued to play in a team ever since. I really enjoyed representing both my primary and secondary schools and both the Liverpool and Merseyside football teams. I attended the England trials on a few occasions too. My hope is that our children are also able to represent our school in a whole variety of sporting events.
I have represented both Everton and Liverpool football clubs but also enjoyed playing for the North West county team too. I really enjoyed going to the football excellence college before attending John Moores University to continue my dream of becoming a teacher. My aim as a teacher now is to inspire and encourage a real love of sport amongst our children. I want our children to experience the enjoyment of taking part in a whole range of competitions within a wide variety of sport. Most of all I want our children to realise the importance of being healthy, experience the joy of taking part in competitions and recognise the importance of fair play and comradeship that this brings. I hope that they continue to play beyond their years of schooling and continue to enjoy the benefits of taking part in sports. Even today, I continue to enjoy winning many honours both individually and as part of a team. I want our children to enjoy that too – to follow their dream and believe in themselves. There are so many different types of physical activity that can be enjoyed by our children – I strive to find at least one particular sport that children will want to continue past their time in our school and hopefully for a long time after. Keeping healthy is important for our mental and physical wellbeing – it's my desire to ensure our children continue to enjoy doing this for a very long time. Who knows? We might have our next Olympian in our school – it is certainly possible.
I represented JMU football team, winning the league and continue to compete in the National Futsal league representing England. As a PE specialist I have completed coaching badges in almost every sport – I am sure some of our children will follow my pathway. The main focus will always be on keeping healthy, taking part and enjoying the many, many benefits that physical education provides.
After gaining my degree in teaching at both primary and secondary levels, I worked for Everton FC and Liverpool School Sports Partnership teaching PE across the city. I later had the fantastic opportunity to join St Anne Stanley; a truly wonderful school with staff who are like a family. We all work as a team to provide the very best for our children and work together to ensure they follow their dreams, believing anything is possible. Our 'many hearts make a school' really describes us well.
I have relished the chance in my role as leader of Physical education to ensure that there is real progression in all aspects of P.E. across the school. It is really lovely that we have been recognised for the wide variety of opportunities we have been able to provide our children and achieved the Silver Award for this. We offer lots of extra-curricular clubs both before and after school, provide lots of opportunities for our children to experience such as fencing, judo, archery, rock climbing to name a few. Sports England have produced a video showing the wide variety of opportunities we have provided for our children. They are all unique and special – we want them to find a love of any aspect of physical activity and hopefully continue with this beyond their years at our school. Our children are very well prepared for their next stage in learning – but hopefully instilled with a real desire to continue with this for many years to come.
In St Anne's, we firmly believe every child should have the right to exceed in a sport of their choice. We want to help our children develop their skills across their time in our school and enable them to have the opportunities to become the next future stars.
Intent, Implementation and Impact
Key Word and Definitions for Sports
National Curriculum Physical Education
StAS_SG_2020_virtual_games certificate