Welcome to Year Five
Curriculum Information Autumn Y5 2019
Curriculum Information Spring Y5 2020
Transition from Primary to Secondary Autumn 2021 – Local authority guidance booklet for parents and carers of pupils in current Year 5:
Please read the letters below. They provided latest information for parents, carers and pupils regarding current provision for Home Learning and updates regarding the phased re-opening of our school.
Mrs Simons' Letter to parents 27.6.20
Mrs Simons' letter to parents for week beginning 8th June
Mrs Simons' Letter to children 8.6.20
Mrs Simons' Letter to parents 22.5.20
Mrs Simon's letter to parents 18.5.20
Latest activities and news for week commencing 13th July: –
Letter to Parents & Carers Return Sept 2020
Letter to parents and children from Mr Harmes
Fw__Chn's_Centres_School_Readiness_for_Summer_Period
KS2-Week-12-French-Week-Home-Learning-Pack
Letter to Parents & Carers Return Sept 2020
Open letter to all parents from Simon O'Brien, Liverpool City Region Cycling and Walking Commissioner power-of-kindness-calendar-blank
t-t-21096-for-my-new-teacher-transition-booklet-_ver_1
Latest activities and news for week commencing 6th July: –
English safeguarding leaflet – WEB
Explaining_Coronavirus_to_Young_Children
Year 5 Independent Maths & English Work Booklet
Year-5-Week-11-Home-Learning-Pack
Latest activities and news for week commencing 15th June: –
Click on the week 8 link for information about an art competition taking place at the moment. You have until 3rd July to submit your entries.
parents back to school guide v2 (compressed images)LH (002)
parents back to school guide v2 (compressed images)LH (002)
https://parentzone.us3.list-manage.com/track/click?u=bd227427019036d582c40c448&id=306befb906&e=8206b6ad52
Mr Harmes says: –
"I hope that everyone enjoyed the half-term break. It was good to catch up with a few of our key workers' pupils last week at school. I hope to see more of you before too long! In the meantime, keep accessing your Reading Plus and TT Rockstars from home, along with activities from the many links below. Here are some new ideas for you to try: -"
Summer Holidays Pack – Travel to Tokyo
Any key worker parents or carers who require alternative childcare provision during the half-term holiday can click on the following link for further information from Liverpool City Council.
http://liverpool.gov.uk/childcarehubs
'I wish all children, parents and carers a restful and enjoyable half-term break. I look forward to meeting up with you all before too long. Stay safe.' – Mr Harmes
update for parents js letter for children js
letter to parents re prime minister announcement
Suggested websites offering a variety of activities and resources on a broad range of topics: –
Summer3 email Summer2 email summer1 email summer 4 e-mail summer 5 email
Here are some home learning Primary History Ideas, kindly supplied by Miss Prior. There are some great research projects to get involved with.
HomeLearningPrimaryHistoryIdeas_.198496953
Faith at Home Youth Resources 1
Here are some fun activities you may wish to try. Take advantage of the warm, dry weather (whilst it lasts), to get outdoors where possible!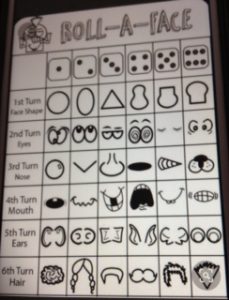 Year 5 'Words of the week' can be found by clicking on the links below. Can you read them, spell them, check their meanings, use them in a sentence either verbally or in writing, find other words with similar meanings?
Go on… impress people you know with your ever expanding vocabulary!
Week 1 Week 2 Week 3 Week 4Week 5 Week 7 Week 9
---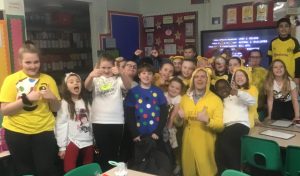 We had lots of fun wearing yellow and spots in aid of Children In Need. Well done to everyone who took part.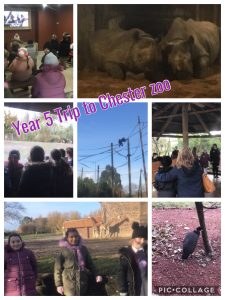 Our trip to Chester Zoo was wonderful. It was a cold day but thankfully, it remained dry! We managed to see lots of different animals. Our children were excited about the day, asking lots of questions on the way round and conducting themselves really well.
What was your favourite part of the day?
Which animal did you enjoy seeing the most and why?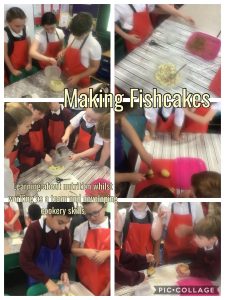 Classroom Kitchen were in Year 5 again. Our class always look forward to the visit from Mr. Devaney. They are showing increased confidence and proficiency in their cooking skills and becoming more aware of nutrition. The repertoire of delicious, healthy meals continues to grow. A recipe sheet has been given to pupils for them to recreate the dish at home… Get cooking!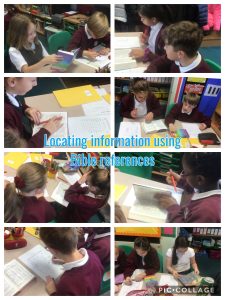 Working in pairs, we have been learning how to locate information in the Bible using the index and Bible references. We were able to locate advice and guidance on a broad range of topics.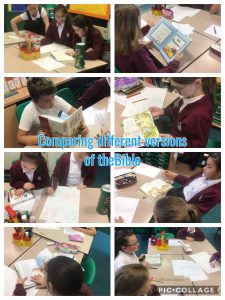 We also teamed up into table groups to compare and contrast different versions of the Bible and books of Bible stories for various age groups.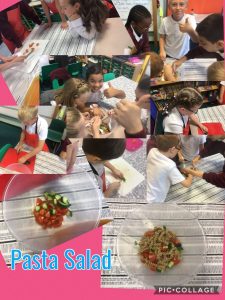 A good time was had by all when creating a pasta salad recipe in class. Some of the pupils having recreated the dish at home, got creative by adding their own twists to the original recipe.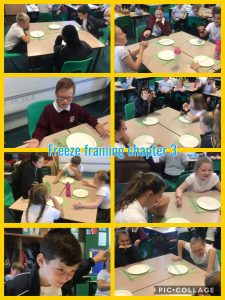 To explore empathy for characters, we used freeze framing during our English lesson to capture a family argument from our current novel 'There's a boy in the girls' bathroom' by Louis Sachar. We could identify brilliantly with the different character perspectives.