Welcome to Y3L
Latest letter from Mrs Simons about September reopening:

14th July 2020
Dear Parents/Carers,
Thank you so much for your patience and support during what has been a very challenging time for all our families and staff. We pray that our whole school community and their loved ones continue to stay safe and well.
Throughout this period of uncertainty, we have received so many lovely messages of support and kindness and each and every one of them has been extremely appreciated. These thoughtful messages have kept us going but made us miss all our wonderful children and families even more than we were doing already. We really can't wait to be together again as a St Anne's family. We truly do believe that "Many Hearts Make a School".
We have carefully planned our full school opening in September following all of the recent government guidelines. We kindly ask for your patience and understanding with the protective measures we have put in place. These measures are outlined in my recent letter and again I must remind everyone that they are vital in keeping our pupils, staff, parents/carers and the wider community safe and well. These changes are significant and will of course impact on routines and the day to day running of our school. If we continue to work together we can do this successfully and will keep everyone safe and well – which is paramount for everything we do.
Arrival and Collection Times
Following the latest government guidelines, staggered start/finish times and entry points for each class bubble have been carefully planned. This has been arranged so that that pupils and parents for each class arrive and depart from school five minutes apart, therefore reducing contact between the different classes and their parents. The timings of our school day may have altered but there are no reductions in teaching time for any of our year groups.
I understand that theses staggered times may be problematic for those of you who work and for those who have a number of children in different classes across the school but we really do have to follow the guidance and reduce the number of children, parents and staff from mixing as much as we possibly can. For the same reason, only one parent from a family will be allowed into the playground when dropping and collecting their child from school. We politely ask that parents do not congregate in the yard or at the school gates at anytime. Unfortunately, parents will continue to be unable to enter the school at any time and we ask that you contact the school office or the Class Teacher via telephone or e-mail if you have any queries.
Any children arriving at school later than their allocated time will have to wait until all the other classes have entered the building before being allowed into school.
For those families with siblings in different classes, we ask that you bring all your children to school for the earliest start time. Please wait until the earliest class bubble has entered the building and then staff will make arrangements for your other children to safely go to their class. We also suggest that families in this situation collect all their children at the latest finish time.
The start and finish times are as follows:
| | | | | |
| --- | --- | --- | --- | --- |
| | Entry & Exit Point for Pupil/Parent | | | |
| | | | | |
| | | | | |
| | | | | |
| | | | | |
| | | | | |
| | | | | |
| | | | | |
| | | | | |
| | | | | |
| | | | | |
| | | | | |
| | | | | |
| | | | | |
| | | | | |
| | | | | |
| | | | | |
Since lockdown in March, each and every one of us will have had very different experiences and we ask that moving forward everyone in our school community is respectful of each other and their individual feelings. When you are dropping or collecting your child from school, we ask that you continue to respect other members of our school community and comply with the current 2m social distancing guidance.
School Minibus
Please be aware that due to current guidelines, we are unable to use the school minibus to transport pupils due to staggered start times and the need to minimise mixing of pupils from different class bubbles.
Breakfast Buddies & Afterschool Club
St Anne's Breakfast Club will be available from Monday 7thSeptember. In the first instance, this provision will only be for working parents needing childcare to enable them to return to workand for some pupils that have previously accessed Breakfast Buddies prior to school closures in March.
Breakfast Club will be available in year group bubbles from 8:00 am / 8:05 am at a cost of £2.50 per day.
The number of pupils able to access our Afterschool Club provision will be very limited at first. This is due to the small number of afterschool staff available and the requirement to minimise pupils mixing between their class or year group bubbles. We kindly ask thatinitially, only working parents with no other childcare options register for this provision in September. We will regularly review afterschool arrangements and intend to offer all our usual extra-curricular clubs as soon as it is safe to do so.
Afterschool Club will become available for eligible families from the end of the school day until 6.00 pm.
For children attending between 3:00 pm and 4:30 pm the cost for the session is £6.00 per child. For those parents who need to access childcare beyond 4:30 pm up to 6:00 pm the cost is £10.00 per child.This is not £10 per extra session but £10.00 in total from school finishing time until 6:00 pm.
From September, both our Breakfast Club and Afterschool Club will need to be both booked and paid for in advance through our new PlusPay account. More details will follow once this system is up and running. Please be aware that we are unable to provide breakfast club if you currently have any outstanding fees for the academic year 2019 – 2020.
Prior to the new academic year, we will send an electronic registration form for both breakfast and afterschool provision for any eligible parents to complete. This form should be completed and returned via e-mail to: d.casey@st-annesstanley.liverpool.sch.uk no later than Thursday 3rd September so that we can have all arrangements in place prior to Monday 7th when both breakfast and after school club will be available.
Parents will be advised as soon as possible if their child has been allocated a place in Breakfast Buddies or Afterschool Club. Please do not attempt to access this provision unless you receive confirmation from school via e-mail or telephone. The school has ensured that children will be within their class or year group bubbles only.
Lunches
To ensure our bubbles have limited contact with each other, all lunchtimes will be staggered and three of our year groups will behaving lunch in their classrooms rather than the dining hall. Currently, these are our Reception, Year Five and Year Six classes. If these pupils require a school meal they will continue to be given the same choice as the rest of the school. A hot or cold meal chosen from the daily menu, will be delivered to the classroom at the allocated time.
Uniform and Equipment
In September all pupils will be required to wear their full school uniform and a school tracksuit on their allocated PE day. The school tracksuits, EYFS jogging bottoms and PE t-shirts are now available to purchase from 'Lisa's Schoolwear' situated on East Prescot Road. We regret that we are no longer able to provide our pupils with a tracksuit free of charge.
Children are required to bring a refillable water bottle that must belabelled with their name and class. Please ensure that pupils only bring a small bag to school if this is really necessary. Pupils are unable to bring pencil cases, equipment or any other personal belongings to school apart from their packed lunch boxes, sunhats and coats. All pupils will be provided with their own pencil case and stationary which will not be shared with any other pupils.
Children are unable to bring mobile phones to school under any circumstance. We advise that all children, including Year Six pupils, are brought to and collected from school by an adult until further notice.
Keeping Safe
I imagine that some of you will be anxious about your child returning to school in September but hope that the protective measures and risk assessments we have put in place will reassure you that we are doing everything we can to keep the whole school community as safe as possible.
Some important things we will continue to do at the start of term are:
• Washing our hands regularly.
• Promoting the catch it, bin it, kill it respiratory hygiene measures.
• Stopping all non-essential visitors to school.
• Having separate playtimes and staggering lunchtimes to stop classes mixing together.
• Rearranging our classrooms so that pupils are not facing each other in KS1 and KS2.
• Giving each child their own individual equipment.
• Keeping the one way systems around school.
• Having staff working throughout the day to ensure our toilets and other shared areas are cleaned frequently throughout the day.
• Following strict guidelines around reporting symptoms of Covid-19.
I appreciate that this letter contains a lot of information but I wanted to share as much information as possible prior to school reopening to all our pupils in September.
I don't think anyone would have imagined that so many changes would happen and so suddenly – the impact of the COVID 19 has meant lots of changes to our daily lives. I know it has been a difficult time for so many people but there have also been lots of positives too, the support given amongst our school community has been overwhelming, the lovely messages and kind words have reflected the ethos that our whole school community thrives on. Thank you so very much for your constant patience, support and kindness towards our staff and the whole school during this time. We promise that onour return we will do everything possible to ensure not only the safety of our children but their wellbeing too. We really have missed our children and families so very much and look forward to seeing you all again in September.
I hope you all have a very enjoyable summer break – hopefully with lots of lovely sunshine. Stay safe and well everyone, we can't wait to see you again soon.
Warmest wishes
Julie Simons
Headteacher
Please scroll down for links to important letters posted recently.

Please follow the link below for some exciting news from Rock Kidz Live.
Hi everyone,
I'm just sending a quick email to let you all know that Rock Kidz Live
is back on YouTube every TUESDAY and THURSDAY.
We still want to make sure we are serving primary schools, parents and
children as best we can during this time and on TUESDAY 14TH JULY we'll
be airing the first episode and continuing into the holidays as a
'summer show'.
We'll continue to take some of the best elements of our schools
programme and incorporate them into a live stream on YouTube.
During the stream there will be music, PSHE content, exercise and lots
of fun for children to engage with.
Below are links to our promotional video on various social media
platforms. We'd really appreciate it if you could share/retweet this on
the schools social media pages if you haven't done so already. Just
click on the links below that will take you to the various social media
sites.
Facebook:
https://www.facebook.com/1248417605239336/videos/325346018485381
Twitter: https://twitter.com/RockKidzUK/status/1282039055966928900
Youtube: https://www.youtube.com/watch?v=o0CNoNc_KlQ
Kindest Regards
Simon Consiglio
Rock Kidz Founder
Please follow the link below for advice to parents and carers on keeping children safe:
https://www.gov.uk/government/publications/coronavirus-covid-19-keeping-children-safe-from-abuse-and-harm
Esafety Advice
Hi all Year Three parents. Please follow the attached link below for the latest information regarding esafety. Stay safe.
thinkuknow.co.uk/parents/Support
*PLEASE REMEMBER to regularly login to our learning platforms such as Education City, Reading Plus, TT Rock Stars and Oak Academy, to name but a few. Also look out for daily fun tasks on our St Anne (Stanley) Twitter page.
Take care and stay safe. 😃


Remember to watch for our daily class and school posts on Twitter!
---
Words of the Week
Letters to Parents of Y3L
Steve Reddy Letter to parents 15.05.2020
Letters from Mrs Simons
Letter for children 27.04.2020
Letter to parents re prime minister announcement 11.05.2020
Letter to parents re re-opening of school on 1st June 18.05.2020
Letter to all parents 01.06.2020
Letter to parents re. return Sept 2020 14.07.2020
Learning activities posted online
Dear Parent/Carer,
The Y3L team hope you are all safe and well. In this very difficult time, we hope you are all looking after each other and that Y3L pupils are all finding interesting and enjoyable ways to occupy their time at home. We have been very fortunate with the weather so far, so hopefully children will have been spending lots of time playing and enjoying themselves in their yards and gardens. We also hope you are still making the most of the various e-learning platforms, as well as helping children get creative with more practical, creative and physical activities. Please remember to view the school Twitter account daily for updates, events and recommendations for activities and other useful home-learning sites. More importantly though, we hope you are enjoying the opportunity to spend time together and to play, laugh and talk.
A text message was sent last week to the whole school requesting parents, if they choose, to send an email to stannestanley12@gmail.com with your child's name and class, so that we can keep in touch with you via email over the coming weeks. Thank you to those parents who have already done this. Please pass this message to any parents from our class that you may be in contact with, the more emails we have, the more in touch we can be with you all.
If you are looking for any type of guidance around structuring your child's day, we recommend the following:
Daily exercise-

We use Super movers in class which are educational videos with movements bbc.co.uk/teach/supermovers
There is also the daily Joe Wicks session which can be found on You Tube which is proving very popular with many children (or even Mr Motivator on TV if preferred!)
Something a little different is Cosmic Kids which is yoga, mindfulness and relaxation through storytelling which can also be found on You Tube
Make up physical challenges to challenge the whole family to get active, or maybe compete against each other in a fun way
Your child should have their login details for Reading Plus, TT Rockstars and Education City- going on these daily would be really beneficial to your child. If you don't have the login details, once we have your email address, you will be able to contact us directly and we can support you with this.
If you are looking for any further learning, we recommend https://www.thenational.academy/ which is a series of carefully planned lessons grouped into year groups for Maths, English and one foundation subject per day. There are many other companies who have created similar and are equally good but it is very easy to become overwhelmed so we suggest focusing on one site. If you have already started using a different site then please continue, as with everything mentioned here, this is only a suggestion.
We are using Twitter (@stannestanleyy3) to share some activities and we will also share words of the week on here too. You and your child can share your own home activities with the school community here too.
We have also signed the class up to Oxford Reading Owl where your child can access many books for free. Go to https://www.oxfordowl.co.uk/for-home/find-a-book/library-page and click on My Class Login to sign in using the following details.
Username: stanney3l
Password: stanley
You may also want to encourage them to watch 'Newsround' which allows the children to access important news stories in a child friendly way www.bbc.co.uk/newsround
We hope you find this information and the suggestions included useful. Please keep in touch with us via Twitter or by email to let us know what exciting things your child is doing.
We miss you all very much and we look forward to seeing you when we return to school, hopefully sooner rather than later.
Please stay safe and take care of one another,
Mr Lineton / Mrs Scott / Mrs Fitzpatrick.
Archived information since September 2019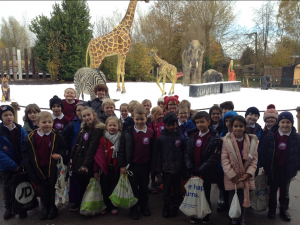 Year Three have made a wonderful start to the new school year and have enjoyed lots of exciting activities in the first half-term. Both classes have presented wonderful family assemblies (based on our Year Three value of 'Friendship') and we are currently excited to have started rehearsing for our Christmas Presentation.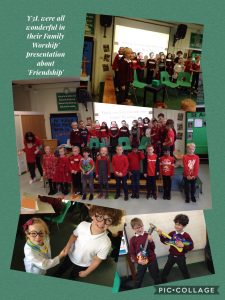 Reading
Please remember to read at home as often as possible and bring your reading books and reading records back into school every day.
Our current class novel this term is 'Storm' by Kevin Crossley-Holland.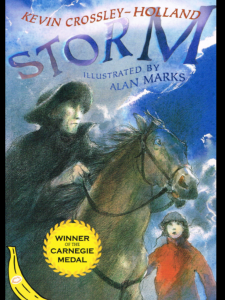 History
We recently had a class visit from Dr. John Hill, an archaeologist from Liverpool University. He taught us lots about the Stone Age and shared amazing artefacts with us. Some of them were one-million years old. What an exciting start to our new history topic!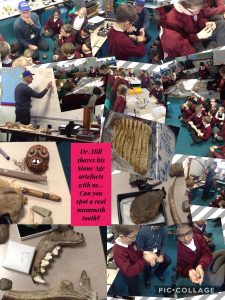 Chester Zoo
We loved our visit to Chester Zoo. It was a really exciting and interesting day. The sun was shining and we saw so many incredible creatures.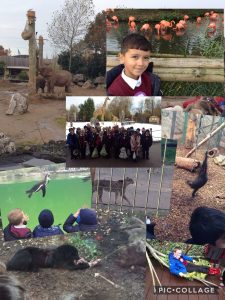 Cookery
We have had two visits from MrDeveney and his 'Classroom Kitchen' this term. In these sessions, Year Three have learning about food and nutrition, as well as creating some healthy and tasty dishes. In our first session, we created Morroccon cous-cous, whilst in our second session, we made and cooked our own 'home made' fish-fingers, always using fresh and healthy ingredients. Our children have thoroughly enjoyed these fantastic, fun and very educational sessions, expertly delivered by Mr Deveney. Year Three have developed lots of new knowledge and skills, many of them trying foods they have never tried before.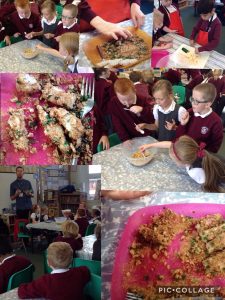 Hi everyone!
Hope you are all well and looking after yourselves and your families. Are you staying active? I hope you are and you're also getting on well with your booklets and online tasks. Remember to check Education City for more tasks to do when you have time. Keep using Reading Plus and TT Rock Stars too! Enjoy a sunny weekend to come, but look out for an exciting new task on this class blog on Monday morning. Please stay safe and stay home.
Miss you all our lovely class.
Mr Lineton /Mrs Scott/Mrs Fitspatrick.
x