Welcome to Year Two
Year Two Curriculum Information Autumn Term
Year Two Curriculum Information Spring Term
Home Learning
Keep checking the Year 2 twitter account for more activities and links –
We have sent home booklets for you to do at home which contain maths, literacy and spelling activities that we have learnt in school. Just do a few at a time and enjoy!
Remember to access the websites and activities which have been set up in school. I will keep updating the activities on Education City and TT Rockstars website so keep checking back every week to find more exciting activities and games to play. I have already set up some activities for you to try on Education City. Once you are logged in go to MY City and the section named Classwork. There you will find some maths, literacy, science and spelling activities. Well done to those who have logged on already 🙂
Every child should have a password for:
Education City – https://ec1.educationcity.com/
TT Rockstars – https://play.ttrockstars.com/auth/school/student/45255
Here are some extra websites;
Reading/Literacy/ Phonics
TopMarks – https://www.topmarks.co.uk/
Phonics Play – http://www.phonicsplay.co.uk (For free access – Username: march20 Password: home)
Maths
TopMarks – https://www.topmarks.co.uk/
The Maths Factor – https://www.themathsfactor.com/
Science
Go Live with Maddie and Greg – https://www.youtube.com/playlist?list=PLmTANLv-GyXWvII2La-sXEePmN2PC9H3g
SciShow Kids – https://www.youtube.com/user/scishowkids/videos
PE/Mindfulness
PE with Joe Wicks – https://www.youtube.com/playlist?list=PLyCLoPd4VxBvQafyve889qVcPxYEjdSTl
Supermovers – https://www.bbc.co.uk/teach/supermovers/ks1-collection/zbr4scw
We have signed up to a new site which has lots of physical activities for you and your child to do.
sign in with email: parent@stannestan-1.com
password: stannestan
---
Welcome back everyone! We hope you have had a lovely Summer. We have so many exciting learning opportunities this year in year 2.

Super Movers – https://www.bbc.co.uk/teach/supermovers
Phonics – https://www.phonicsplay.co.uk/
Top Marks – https://www.topmarks.co.uk/
---
Our class were lucky enough to have a futsal training session with some futsal specialist! We all had a great time and learnt lots of new skills.
We enjoyed learning about Harvest and collecting food for the Harvest Festival.
In our ICT lessons, we have been learning about algorithms and computer programming with Mr Goodall.
We have really been enjoying our weekly music lessons with Mr Lucas. We have been exploring rhythm and duration.
Our P.E topic this half term has been Games! We have been learning a variety of invasion games and working together as a team.
We have created a quiet reading corner in our classroom were we can go and select one of the many books from our class library and read in peace.
We have really enjoyed taking part in a maths morning! We played a lot of different maths games and took part in a variety of maths activities to help support our learning.
We were very lucky to have a 'Classroom cookery' session this half term. Mr Devaney helped to us to prepare a traffic light salad. The best part was when we got to eat the salad! We also learnt about kitchen hygiene and keeping healthy.
In our Art topic this half term we have been studying the artist Wassily Kandinsky. We looked at his work and produced our own interpretations of some of his art work. We also investigated colour mixing and colour studies.
We decided to link our Design Technology with our Geography topic 'Where does our food come from?' and make the traditional Liverpool dish 'Scouse' We really enjoyed peeling and chopping the vegetables but our favourite part was getting to eat the 'Scouse' at then end of the day.
We have been using lots of different apparatus to help support our learning in maths lessons.
In R.E. we have been looking at the importance of the Bible. Father Hughes came in to talk to us about why the Bible is so important to Christians.
Every morning in school we start our maths lessons with a 'Super movers' video. These are songs about lots of different number topics to help support our learning. Our favourites are 'The Posh Pooch' which is helping us remember the 5 times tables and the 'Number Bonds' song.
A big thank you to all the adults who came in to join us in our 'Family Event' this term. We had lots of fun completing a variety of maths activities.
To help raise money for Children in Need we decorated cakes to sell in a cake sale.
We had a fantastic time on our school trip to Chester Zoo. We enjoyed learning about all the animals and everyone behaved really well. A big thank you to all our 'happy helpers' who came with us.
Altru Drama
Altru Drama came into school for anti-bullying week. They looked at the different types of bullying and what we should do if we are being bullied or if someone we know is being bullied. We know how important it is to be kind to everyone and always show others respect.
We really enjoyed our Christmas cookery lesson with Mr Devaney. We got to make mince pies! Some of us ate our mince pies but some of us decided to save them for Santa!!!
We were extremely lucky to have a whole day Art workshop with local Artist Ian Fennelly. We used mixed media to make 3D plant sculptures and even had time to make mini-beasts to hide in them! A big thank you to all the parents and carers who came in to join us for our Art workshop. Your help and support is very much appreciated.
Our cookery session this half term was all about being healthy. We designed and made our very own fruit smoothies and they were delicious! Another wonderful morning with Mr Devaney!
We have been learning about 'measure' in maths lessons. We have had lots of fun estimating and weighing objects, including ourselves!!!! We have also been learning how to measure: time, capacity, length, width, distance and mass.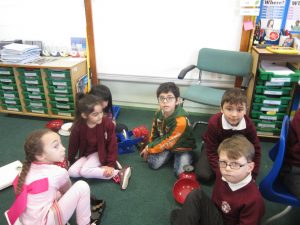 We were very lucky to have a visit from a published author/illustrator Holly and a book expert Tony. Tony shared with us some of his knowledge of Ancient Egypt and Holly demonstrated her illustrating talent!
World Book Day 2020 was a massive success! We started the day with a wonderful assembly with Mr Lineton then went on to do lots of fun World Book Day activities. We used some of our work from our books and some props, to bring our class book, 'Room on the Broom' to life!
Another fun Maths morning learning and consolidating new skills.