Welcome

to Y1ES
Click on the links below to view our curriculum overviews for the year.
Curriculum Map Year 1 2019-2020
Year One Curriculum Information Autumn Term 2019-20
Year one Curriculum Information SpringTerm 2019 – 2020
Don't forget to use your 'City Pass' to log onto Education City. Click on the link below.

---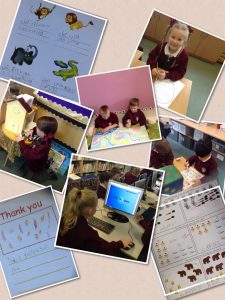 Year 1ES have been giving thanks to God for the harvest. We have explored adjectives and verbs through describing zoo animals and moving like them! We have used our counting skills to solve problems.
Can you solve this problem?
You have 7 bears in two colours. You have more red bears than yellow bears. How many red and yellow bears do you have?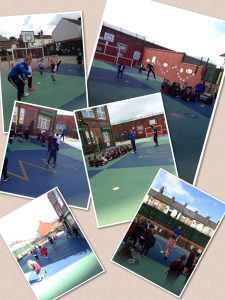 We have enjoyed developing our football skills through playing futsal. We learned how to control the ball using the soles of our feet and how to negotiate space through dodging our opponents!
Can you teach someone at home your futsal skills?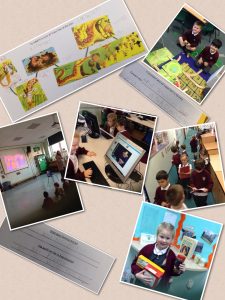 We have been discussing the many ways in which Christian charities help others. We reflected upon the ways in which we could help others. We were grateful to be able to donate food at this harvest time.
We enjoyed retelling the story of 'Class Two at the Zoo' and making predictions for what might happen next! We had lots of creative ideas. We enjoyed using our phonic knowledge in computing through finding graphemes on the keyboard.
We explored our senses and went on a field walk around our school grounds to look at how we use our senses everyday.
Can you describe a harvest fruit using all five senses?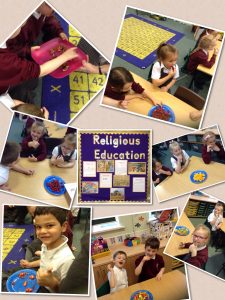 We tasted a variety of harvest fruits and vegetables. We talked about the foods which we had not tasted before; we shared our likes and dislikes. We thanked God for the many foods that we enjoy.
Can you share our school prayer of thanks at home this harvest time?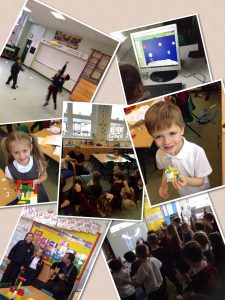 Year 1ES enjoyed a visit from our class governor Mr Whittaker. We showed him the diary entries we have been writing in English; he was amazed at the adjectives we had used in our writing. We showed him our counting skills through our supermovers routine!
We also enjoyed a visit from a year 6 singing duet. They showed us how amazing we could be in year 6, if we work hard in our music lessons. We developed our navigational skills in computing, as we programmed a rocket to visit all of the planets! We used our navigational skills to develop our defending skills in PE. In RE, we explored how Jewish people celebrate the harvest through building sukkahs.
Can you work with someone at home to design your own sukkah?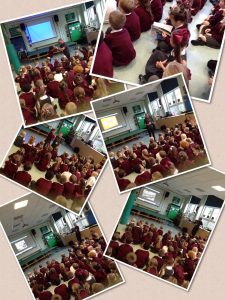 We learned all about rail safety through cartoons, music and dance! For confidently sharing our ideas about rail safety, we earned books about trains!
Can you share something you learned about rail safety at home?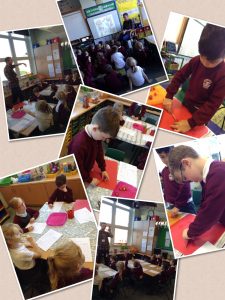 We have been learning all about the principles of a healthy diet with a focus on the '5 a day' principle. We each prepared and tried five different fruits and vegetables. We had lots of fun developing our cutting skills. We learned the bridge and claw technique for chopping fruits and vegetables.
With the support of an adult, can you show someone at home the bridge and claw technique for chopping fruits and vegetables?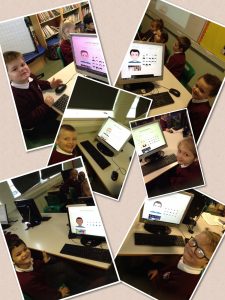 In computing, we have been learning how to create avatars of ourselves! We have been discussing internet safety and the importance of always having a trusted adult to support us when we are online.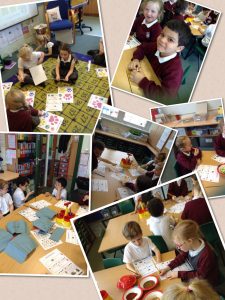 Year 1ES have been sense detectives. We have used our senses to find the smell, taste, touch, sight and sound associated with Ella's missing bear! We gathered and recorded data about the case and thanks to our excellent investigation skills, Ella was reunited with her bear.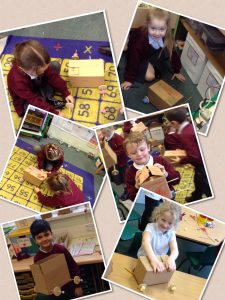 We designed and labelled our own vehicles. We explored two different types of chassis before choosing the type of chassis we would use to make our own vehicle. We had lots of fun assembling our axles and wheels to ensure that our vehicles could move! Well done to all of year 1. Your vehicles are superb!
Can you explain, to someone at home, the difference between the two types of chassis we explored?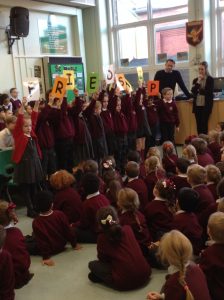 Year 1ES enjoyed a wonderful assembly on the topic of 'friendship'; our school value for this half term. Year 3 led the assembly as 'friendship' is their year group value. Year 3 were amazing; we learned so much about what it means to be a friend.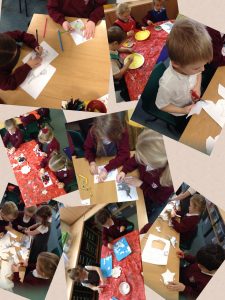 We created the world around us using art and craft materials. We made shiny stars using tinfoil. We created the sky using cotton wool and coloured tissue paper. We made plants using felt. We made birds and fish using cellophane. We created the sun and moon using paint and glitter! In creating God's wonderful world, we came to appreciate how lucky we are to be a part of it.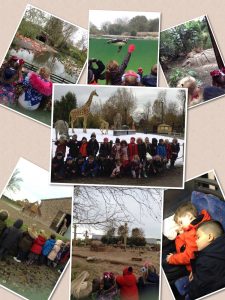 We had a fantastic day at Chester Zoo. It was wonderful to visit so many incredible animals!
Can you use verbs and adjectives to describe your favourite zoo animal to someone at home?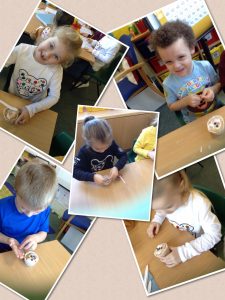 We have been learning all about the wonderful work of BBC Children in Need. We donated to this very worthwhile cause and for our generosity, we each got a cake to decorate and take home!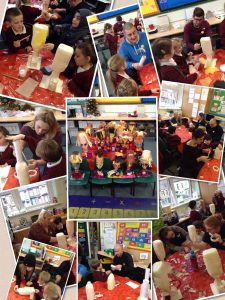 Thank you to all of our wonderful parents and children who spent the entire day working together on an art project. Under the expert guidance of artist Ian Fennelly, we created a masterpiece!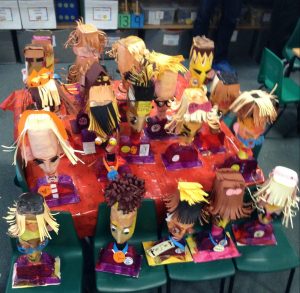 Can you explain how we made our sculptures to someone at home? First, we covered a 4 pint milk carton in masking tape. What did we do next?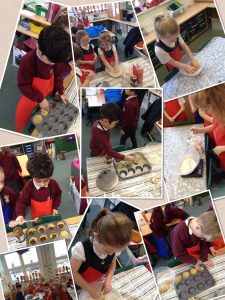 Classroom Kitchens turned our classroom into a bakery! We worked together to follow the instructions and measure the ingredients needed to bake Father Christmas' favourite treat.
Can you teach someone at home a cookery skill that you have learnt?