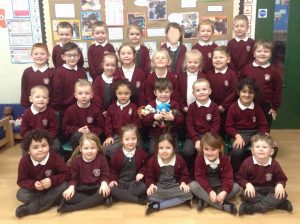 Some useful information about the year ahead…
EYFS Reception Curriculum Map Autumn, Spring, Summer
Reception Autumn Parent Curriculum Information 2019-2020
EYFS Reception Spring Parent Curriculum Information

Phonics
Some information on how we say the phonemes (sounds) to help our children learn to read and write.
A visit from the Easter Bunny
We had a lot of fun on the last day of school before we broke up for the Easter break. We made and decorated Easter cards and baskets.
We had such a surprise when we came in after playing outside and found footprints and carrots on the floor! I wonder who could have made all this mess…?
Happy Mother's Day
Happy mother's day! We hope you liked our butterfly-themed cards – we really enjoyed making and writing them for you J
We also had a lot of fun choosing gifts at our annual mother's day sale run by our parents' association J
xxx We hope you all had a lovely Mothering Sunday xxx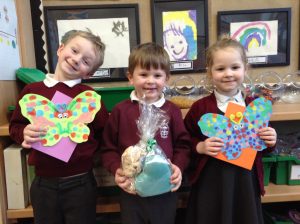 Reading Wednesday
We love reading and we love listening to stories in Reception J
Storytime plays an important role in introducing children to the magic of books… This early introduction to reading develops a child's love of books and fosters a close, loving relationship between parent and child.
Every Wednesday, parents, grandparents, friends and carers are invited into Reception to share a story with their child. Our sessions have been a huge success – we hope that you are enjoying coming in as much as we look forward to having you with us!
World Book Day 2020
We love stories and we love to dress up! What a magical day we had on World Book Day J
We all came to school dressed as our favourite book character and enjoyed a special assembly in the hall were we got to show off our wonderful costumes. We then went back to class and shared our favourite stories with our friends – we had so much fun J
How many book characters can you recognise from our class gallery?
PE with Miss Quinn
We love PE with Miss Quinn on Wednesday! Our confidence has blossomed this term and we have had a lot of fun using the different apparatus in the school hall J
Kung Hei Fat Choi
Mrs Nugent from Year 6 came to talk to us about Chinese New Year. She brought some exciting pictures and artefacts in from her home and told us all about how she celebrates Chinese New Year with her family.
Some of the children in Reception also talked about visiting town at the weekend to see the celebrations in Chinatown. They described the huge dancing dragons and explained to us that they were eating lettuces from the doorways and windows of many of the shops and restaurants!
Some of our children even stood up and spoke to us about celebrations in their own homes – we were fascinated to hear about about the lucky red money envelopes some children received and all about the children's new clothes and special food that they ate to celebrate!
We also watched a video on CBeebies about a little girl called Abbie – she told us all about how she and her family prepare and celebrate for Chinese New Year.
Here's the link in case you want to watch it again with your family:
https://www.bbc.co.uk/cbeebies/watch/chinese-new-year
J Kung Hei Fat Choi J
A special treat…
Each term, one pupil from each class is chosen for their determination, persistence and hard work to receive a special treat with our head teacher, Mrs Simons.
A massive well done to Sophie from Reception J – you have made your teacher's so very proud with you mature attitude to learning – you are a role model to others J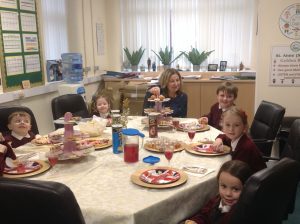 Bikeability
The Bikeability team have been in to visit us. Each week we will be working in groups of ten in our outdoor area with a specially trained Bikeability instructor. We've had a lot of fun using the balance bikes so far and you can see already how our confidence has grown.
Our visit to St. Anne's Church
We all walked down to St. Anne's Church to see the big Year 3 and Year 4 children perform their Christmas Nativity Show.
We had a lovely time and really enjoyed their performance.
Afterwards, we had a look around the church…
A Wriggly Nativity
We invited all of parents and families along to see our Christmas show, 'A Wriggly Nativity' J
Getting ready for Christmas
We've been very busy in Reception…
Science Workshop
We had a lot of fun trying out the different activities and games with our families at our Reception Parent Workshop…
Thank you all for coming J
Exercising our hand muscles
We have been working hard to develop our manipulative skills ready for mark-making with an assortment of resources and activities this term.
Using one-handed equipment and engaging in activities that require random cuts before expecting children to make controlled cuts…
Having fun with numbers
We have been working hard to recognise our numbers from zero to twenty. We've been practising our counting skills, remembering to count slowly and accurately and trying really hard to say just one number for each item as we count (perfecting our 1:1 correspondence).
Out and about in our local community
Every week we plan out together as a class what we need to buy for our snack table. We write out a shopping list and then we take it in turns to visit the supermarket next door to our school. Going to ASDA is lots of fun but a lot of learning also takes place too (writing out our shopping lists, reading what we need from our lists, scanning our shopping at the self service till and then working out which coins we need to pay for our shopping).
We then have to carry all of our shopping back to school!
An exciting day out
So much to do and so much to see, we had a lovely time at Chester Zoo J
Harvesting our snack
Guess what we're having for our snack tomorrow…?
We've been learning all about harvest time and when we went outside we noticed that we had pears growing in our playground!
We had a lot of fun harvesting them ready for snack tomorrow J
We love to read J
Did you know that reading books aloud to children stimulates their imagination and expands their understanding of the world?
It helps them develop language and listening skills and prepares them to understand the written word.
In Nursery and Reception, we encourage all our children to take home a library book each night – please try and find a quiet moment to share a story each night with your child. Library books can then be brought back to school the next day and your child can choose another story to take home J
For helpful advice and tips on reading at home please visit the 'Booktrust' website below:
https://www.booktrust.org.uk/books-and-reading/tips-and-advice
J Reception J J
Reception children have settled well into their new school and class –
we've all had a lot of fun exploring our learning environment and making new friends J
---