Welcome to Nursery
EYFS Curriculum Map (Autumn, Spring, Summer)

A very warm welcome to the new families who have joined our school. Lovely also to meet again familiar faces as younger siblings now begin nursery.
A big thank you for making us feel so welcome when we visited you and your child at home. The children have settled into nursery routines amazingly quickly and relationships are being made.
Your child's transition into nursery is planned very carefully. If you feel we could have done anything differently please let us know.
On their first day the children stay for one hour with their parents.
Stay and Play
On the second day the children come to nursery in their uniform and stay for the hour without their parents if we feel they are able to do this.
On the third day children stay for the full session.
It was lovely to see so many children being independent and confident from so early on. We do have a number of children who were with us last year from when they turned three who are good role models for the new children.
Mr Lucas is the school music specialist teacher.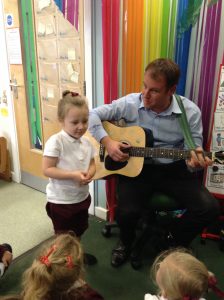 Miss Quinn is the school PE specialist teacher.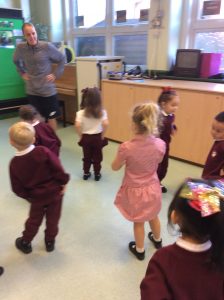 Early reading is so important and giving your child a love of books from an early age is a major factor predicting success in school and beyond.
Children take home a book each day.
Children enjoying "reading" within the environment.
Big Books are used regularly to model handling a book correctly and early book language. It is also an opportunity to introduce new vocabulary.
After reading this book we found out most of the children likes hot, sunny weather best. No children were familiar with the word "hail". They are now!
Mark Making
Our focus this half-term is "Being Healthy".
Lauren (the Health Promotion Worker from Stoneycroft Childrens Centre) came to make a healthy snack with the children. The children chopped and sliced a selection of soft fruit then added to plain yoghurt. A healthy treat made and enjoyed by all the children. What concentration too whilst being so careful.
We have a new slide in our outdoors. The children were shown how to line up and take turns.
Healthy snacks are available on the snack table alongside milk and water. The children are encouraged to be as independent as possible. Chatting at the snack table is an opportunity to develop speech and language alongside introducing new vocabulary.
.