Welcome to Nursery
EYFS Curriculum Map (Autumn, Spring, Summer)
Nursery Curriculum Information Autumn 2019
Nursery Curriculum Information Spring 2020
We have signed up to a new site which has lots of physical activities for you and your child to do
sign in with the email parent@stannestan-1.com
Password stannestan


A very warm welcome to the new families who have joined our school. Lovely also to meet again familiar faces as younger siblings now begin nursery.
A big thank you for making us feel so welcome when we visited you and your child at home. The children have settled into nursery routines amazingly quickly and relationships are being made.
Your child's transition into nursery is planned very carefully. If you feel we could have done anything differently please let us know.
On their first day the children stay for one hour with their parents.
---
Stay and Play
On the second day the children come to nursery in their uniform and stay for the hour without their parents if we feel they are able to do this.
On the third day children stay for the full session.
It was lovely to see so many children being independent and confident from so early on. We do have a number of children who were with us last year from when they turned three who are good role models for the new children.
Mr Lucas is the school music specialist teacher.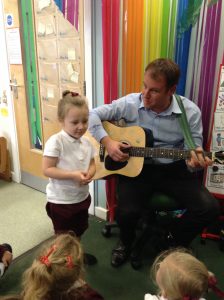 Miss Quinn is the school PE specialist teacher.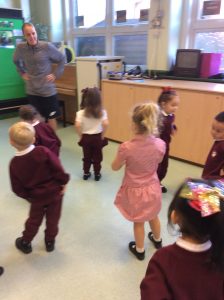 Early reading is so important and giving your child a love of books from an early age is a major factor predicting success in school and beyond.
Children take home a book each day.
Children enjoying "reading" within the environment.
Big Books are used regularly to model handling a book correctly and early book language. It is also an opportunity to introduce new vocabulary.
After reading this book we found out most of the children likes hot, sunny weather best. No children were familiar with the word "hail". They are now!
Mark Making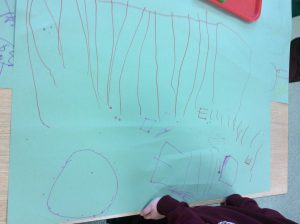 Our focus this half-term is "Being Healthy".
Lauren (the Health Promotion Worker from Stoneycroft Childrens Centre) came to make a healthy snack with the children. The children chopped and sliced a selection of soft fruit then added to plain yoghurt. A healthy treat made and enjoyed by all the children. What concentration too whilst being so careful.
We have a new slide in our outdoors. The children were shown how to line up and take turns.
Healthy snacks are available on the snack table alongside milk and water. The children are encouraged to be as independent as possible. Chatting at the snack table is an opportunity to develop speech and language alongside introducing new vocabulary.
We enjoy making our own play dough each week. This gives us the opportunity to count as we add the right amounts of different ingredients and also to explore texture.
We enjoyed a storybook called The Giant Sandwich. This led to us making our own sandwiches.
Exploring shape and space.
Using the timer to record how many bounces can be made in three minutes then recording.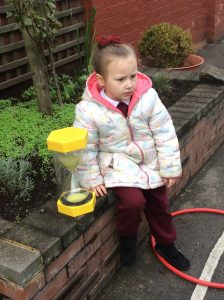 A Learning Journey Book records our progress through the year. The parents are welcome to view them at any time. The children like looking through them too! Parents are sent regular emails informing them of their child's achievements and are encouraged to add their own from home.
Whilst finding out how Diwali was celebrated we had a try at making our own diva lamps.
Preparing for Christmas.
The word "transparent" is part of our new vocabulary we have introduced to this week. One little girl discovered a bauble which was "transparent" as we were decorating the Christmas tree.
Making sure our costumes fit ready to perform our Nursery Nativity for our families.
Comparing dried to fresh mango. Using our senses to taste, touch, smell and look how they are different.
Exploring texture and change whilst baking.
Ashley and Christian from Deaf Active have been teaching us sign language.
| | |
| --- | --- |
| | |
| This is a 10 week programme so hopefully at the end we will be able to perform to our parents what we can do. | |
Walking Wednesday means we are keeping fit whilst gaining a knowledge of the local area around our school. We have been looking for what we like and what we don't like. We listened for sounds we heard and also talked about keeping safe by the roads as our school is built next to a very busy road. When we return to school we "run a mile" in the front playground.
We enjoy listening to stories read by our Year 6 Reading buddies.
One of the children brought her recipe for banana cakes into nursery for us to try.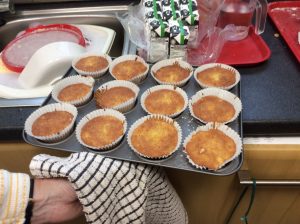 They were delicious!
It has been a very wet week. "Everyone can fit under my umbrella."
That is so kind but can they?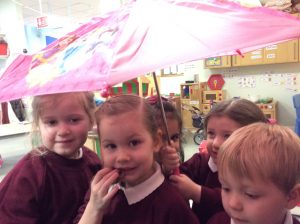 I wonder how big the umbrella needs to be to fit everyone underneath?
"Huge" "Gigantic" "Enormous"
Planting an amarylis bulb. Can this …. really grow into this….. ?
This is what it looks like now so still some growing to do! We are making sure we give it just enough water. The bud is just beginning to open.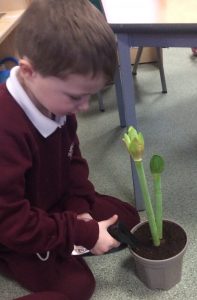 As we are now half way through the year, lovely to see firm friendships developing. "You're my best friend."