Welcome to Nursery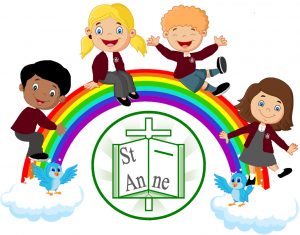 Some useful information about the year ahead…
EYFS Curriculum Map (Autumn, Spring, Summer)
A little something to make you smile…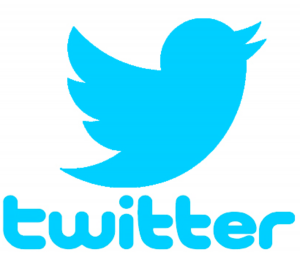 Have a look on Twitter and keep up to date with our latest news and suggested activities…
and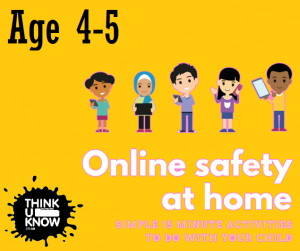 Thinkuknow is an education programme from NCA-CEOP, a UK organisation which protects children both online and offline.
The Thinkuknow websites offers advice about how to help keey your child safe when they're playing on a phone, tablet or computer. As well as advice, the website also offter a series of short age appropriate activities to do at home with your child linked to online safety.
Thinkuknow Parents Support Tools – home activity worksheets, early-years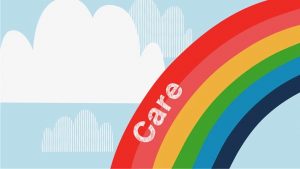 Some useful videos from BBC Children in Need. Dr Radha shares her top tips on looking after your wellbeing during these current challenging times.
BBC children in Need – Dr Radha's Wellbeing Tips

Every pupil from Nursery to Year 6 has a user name and password for Education City. This enables children to continue their learning at home, playing fun activities linked to what they have been working on in class. If you you have misplaced your password or login details, please get touch and we can reissue them J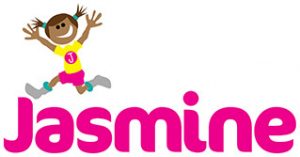 We have signed up to a new site which has lots of physical activities for you and your child to try:
sign in with email: parent@stannestan-1.com
password: stannestan
Reading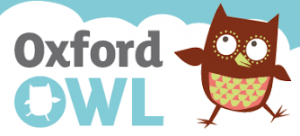 A nursery account for 'Oxford Owl' has been set so that you and your child can continue to access story books at home. The ebooks are free and are feature some really lovely stories for you to share with your little one.
On the web page go to the pink/purple 'My class login' button and insert the username and password:
https://www.oxfordowl.co.uk/please-log-in?open_loginbox=true
Username: nurseryriley
Password: stanley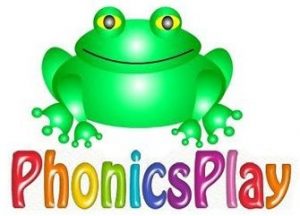 Anything that you do to develop your child's love of language is a good thing. If you are looking for specific ideas, there are lots of starting points here on Phonics Play.
We have a lot of fun in nursery exploring Phase 1 (this is all about developing pre-phonics skills). There are many ideas for developing these skills at home on the Phonics Play website.
The website is currently free to access (just type in the username and password below).
https://new.phonicsplay.co.uk/resources/phase/1
Username: march20
Password: home
There is also a handy parents page that is all about helping your pre-school child at home – none of the suggested activities on the webpage need to be planned, are formal or are a big deal. They are just little things that can be added into everyday play with your child – we hope that you find them useful J
https://new.phonicsplay.co.uk/parents/pre-school-children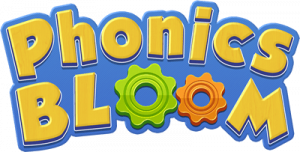 Phonics Bloom is another popular website that we use regularly at St. Anne's. Many of the games are free to access on this site (we only use the free ones in school) and again the Phase 1 games are similar to activities that we practise in class.
https://www.phonicsbloom.com/uk/game/list/phonics-games-phase-1
We have started to learn our letter sounds too.
We follow a program called 'Jolly Phonics' which is a lot of fun. This video explains the special order that we learn our letters and goes through the actions as well as how we say the sounds.
Our Jolly Phonics Songs – can you remember the action and song to go with each letter? (unfortunately, the songs are in alphabetical order on this video and are not the order that we learn them in at nursery so don't stress if you your child can't recognise them all yet – we might not have covered them in class yet!)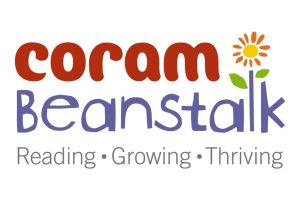 Corma Beanstalk are working with Very UK, to bring you a series of online Storytime sessions. There are some brilliant books featured and they are being read by some very familiar faces.
Each week a new story will be available, and each one will also be accompanied by some top tips to help make sharing books fun and engaging!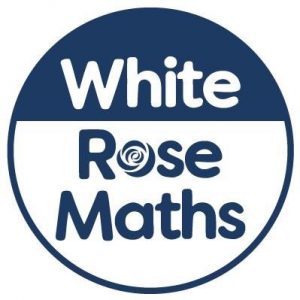 White Rose Maths has prepared a series of maths lessons for Early Years – the first one starts with a story (one of our favourite stories in Nursery and one that we know really well – 'Supertato'). White Rose Maths is a free website and lessons and activities are set out day by day, week by week.
https://whiterosemaths.com/homelearning/early-years/
We love to read J
Did you know that reading books aloud to children stimulates their imagination and expands their understanding of the world?
It helps them develop language and listening skills and prepares them to understand the written word.
In Nursery and Reception, we encourage all our children to take home a library book each night – please try and find a quiet moment to share a story each night with your child. Library books can then be brought back to school the next day and your child can choose another story to take home J
For helpful advice and tips on reading at home please visit the 'Booktrust' website below:
https://www.booktrust.org.uk/books-and-reading/tips-and-advice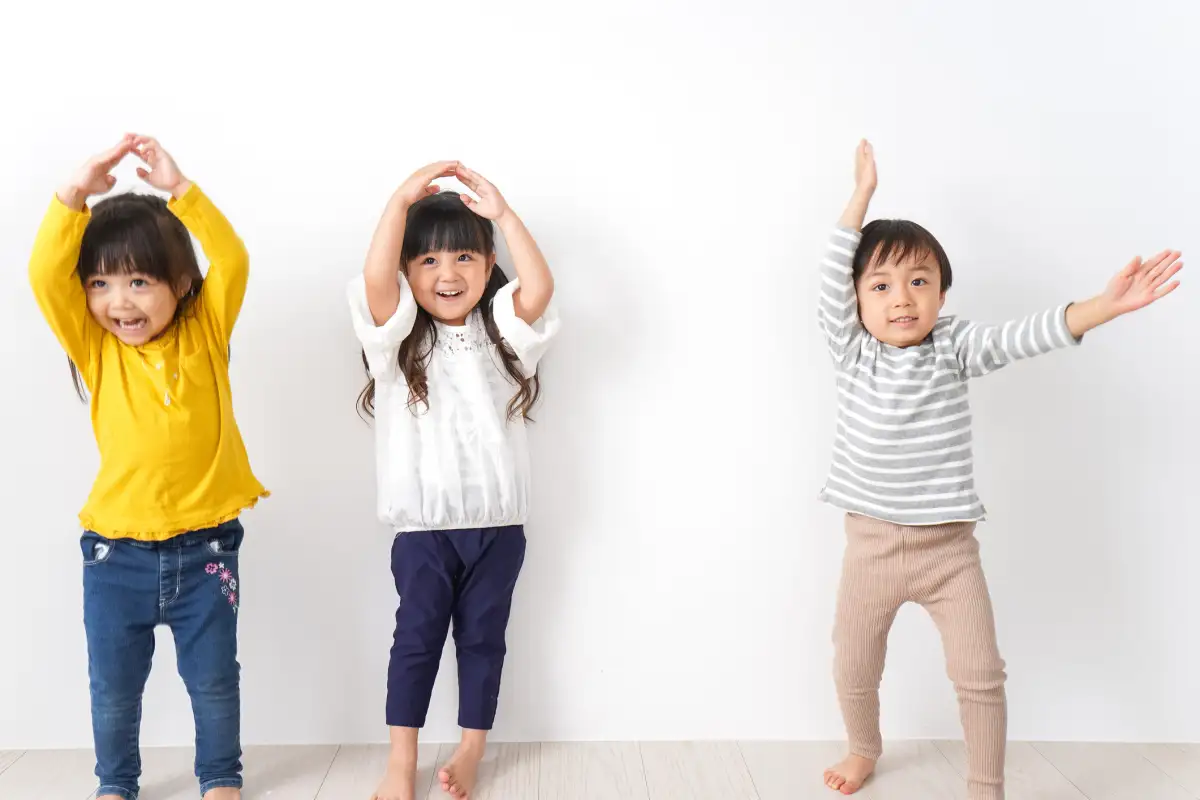 This list of 49 activities is the ultimate go-to for any playdate, home child care setting, or a morning or afternoon with a caregiver. Whatever the situation, short attention spans mean that it's a good idea to have a few of these up your sleeve.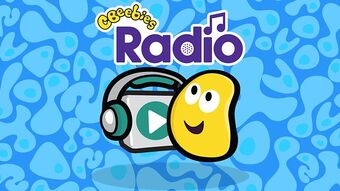 CBeebies Radio takes you to a world of sound and music, where you can share imaginative adventures and listen to stories with your favourite CBeebies friends and characters.
Many little things light up hungry little minds. Children take everything in, and even the smallest things you do with them can make a big difference.
Children love it when you chat, play and read with them, even when they're too young to understand everything. Whatever the time and wherever you are, you can turn almost anything into a game and every little thing you do together will help set them up nicely for the day they start school.
We understand that due to the coronavirus outbreak, you and your children are spending more time at home and you might be looking for a bit more inspiration for things to do. Start by trying some of these simple, fun activities.
To help with well being, we've rounded up some fun, non-screen activities that can be done at home to support independent learning.
Family Zone works to improve reading, writing, speaking and listening skills across communities in the UK.
Family Zone is full of free activities and ideas to keep your child busy at home, whilst also benefiting reading, writing and language development.

Some lovely ideas on interactive learning to encourage creative, confident and happy learners

J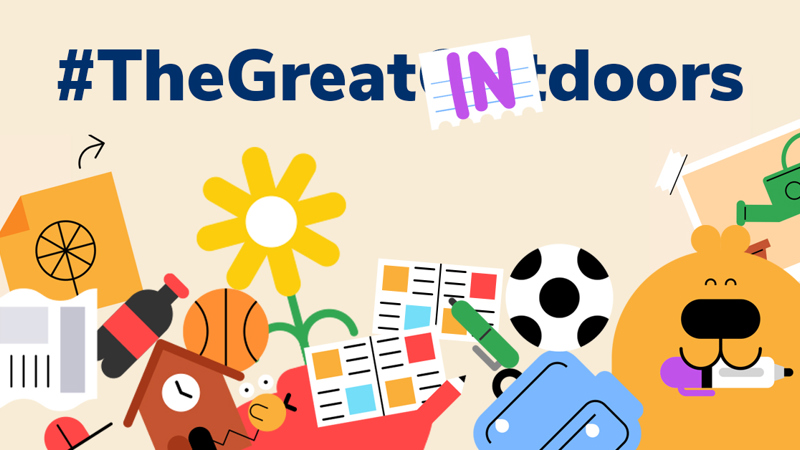 Lots of fun and creative ideas and activities to inspire young minds at home

J
A very warm welcome to the new families who have joined our school. Lovely also to meet again familiar faces as younger siblings now begin nursery.
A big thank you for making us feel so welcome when we visited you and your child at home. The children have settled into nursery routines amazingly quickly and relationships are being made.
Your child's transition into nursery is planned very carefully. If you feel we could have done anything differently please let us know.
On their first day the children stay for one hour with their parents.
---
Stay and Play
On the second day the children come to nursery in their uniform and stay for the hour without their parents if we feel they are able to do this.
On the third day children stay for the full session.
It was lovely to see so many children being independent and confident from so early on. We do have a number of children who were with us last year from when they turned three who are good role models for the new children.
Mr Lucas is the school music specialist teacher.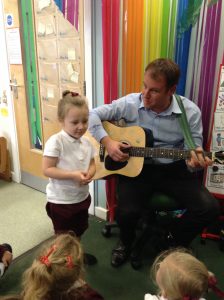 Miss Quinn is the school PE specialist teacher.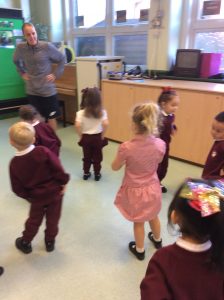 Early reading is so important and giving your child a love of books from an early age is a major factor predicting success in school and beyond.
Children take home a book each day.
Children enjoying "reading" within the environment.
Big Books are used regularly to model handling a book correctly and early book language. It is also an opportunity to introduce new vocabulary.
After reading this book we found out most of the children likes hot, sunny weather best. No children were familiar with the word "hail". They are now!
Mark Making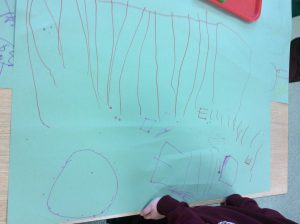 Our focus this half-term is "Being Healthy".
Lauren (the Health Promotion Worker from Stoneycroft Children's Centre) came to make a healthy snack with the children. The children chopped and sliced a selection of soft fruit then added to plain yoghurt. A healthy treat made and enjoyed by all the children. What concentration too whilst being so careful.
We have a new slide in our outdoors. The children were shown how to line up and take turns.
Healthy snacks are available on the snack table alongside milk and water. The children are encouraged to be as independent as possible. Chatting at the snack table is an opportunity to develop speech and language alongside introducing new vocabulary.
We enjoy making our own play dough each week. This gives us the opportunity to count as we add the right amounts of different ingredients and also to explore texture.
We enjoyed a storybook called The Giant Sandwich. This led to us making our own sandwiches.
Exploring shape and space.
Using the timer to record how many bounces can be made in three minutes then recording.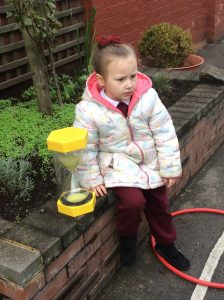 A Learning Journey Book records our progress through the year. The parents are welcome to view them at any time. The children like looking through them too! Parents are sent regular emails informing them of their child's achievements and are encouraged to add their own from home.
Whilst finding out how Diwali was celebrated we had a try at making our own diva lamps.
Preparing for Christmas
The word "transparent" is part of our new vocabulary we have introduced to this week. One little girl discovered a bauble which was "transparent" as we were decorating the Christmas tree.
Making sure our costumes fit ready to perform our Nursery Nativity for our families.
Comparing dried to fresh mango. Using our senses to taste, touch, smell and look how they are different.
Exploring texture and change whilst baking.
Ashley and Christian from Deaf Active have been teaching us sign language.
| | |
| --- | --- |
| | |
| This is a 10 week programme so hopefully at the end we will be able to perform to our parents what we can do. | |
Walking Wednesday means we are keeping fit whilst gaining a knowledge of the local area around our school. We have been looking for what we like and what we don't like. We listened for sounds we heard and also talked about keeping safe by the roads as our school is built next to a very busy road. When we return to school we "run a mile" in the front playground.
We enjoy listening to stories read by our Year 6 Reading buddies.
One of the children brought her recipe for banana cakes into nursery for us to try.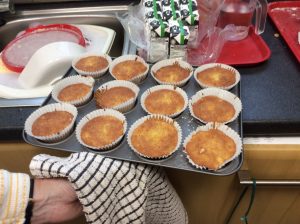 They were delicious!
It has been a very wet week. "Everyone can fit under my umbrella."
That is so kind but can they?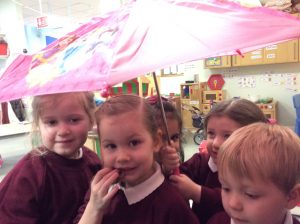 I wonder how big the umbrella needs to be to fit everyone underneath?
"Huge" "Gigantic" "Enormous"
Planting an amarylis bulb. Can this …. really grow into this….. ?
This is what it looks like now so still some growing to do! We are making sure we give it just enough water. The bud is just beginning to open.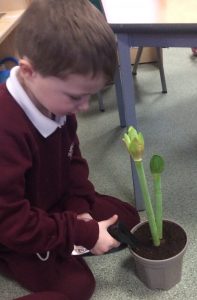 As we are now half way through the year, lovely to see firm friendships developing. "You're my best friend."
We have been reading "Walking Through The Jungle". We remembered all of the "doing" words. This complements work we have been doing whilst tracking children using WellComm. This is an intervention which helps to support the children's development in communication and language.
Reading and sharing books is an important way of introducing children to vocabulary that they might not otherwise hear. We can then use this language when playing to embed the new words.
The children are enjoying yoga and copy positions being modelled on the big screen. "Stretching" was a word introduced which some of the children hadn't heard or used before. Wonderful concentration was shown by such young children whilst enjoying exercise initiated by themselves.
With school closures in place due to the Coronavirus, messages will be sent to parents using 2buildaprofile. Twitter will also be used to give ideas on learning at home. Please reply using our message system if there is anything in particular you need help with and I will reply as soon as possible. It would be lovely to receive messages and photographs from you showing how you are keeping busy at home until nursery reopens. EducationCity is also available for you to access at home. If you need a reminder of your login details please don't hesitate to get in touch and I can forward them to you.
Take care and please stay safe.
Mrs Riley, Mrs Eley and Miss Williams
x x x x