Welcome to Year Six.
Don't forget to logon to Education City using your 'City Pass'.

Welcome to Y6C Class page. 
This will be regularly updated with pictures of the activities the children have been enjoying in school. Please support your child by ensuring all homework is completed and handed in on time and they read at least three times a week. 
We have recently launched 'Reading Plus' which children can access from home. Please encourage your child to go on as much as possible. 
DT
We love baking in our DT lessons. The apple crumble was delicious!
Science
We made our own periscopes in Science.
RE
We celebrated the Eucharist at the service which was held at the end of our RE unit on the Eucharist.
Online safety
It is really important to have a safe and secure password to access any device or software. Never make your password easy for someone else to guess!
Staying Safe
We are always trying to ensure children know how to keep themselves safe. We have attended workshops on: staying safe near railways, staying safe near open water, electricity and safety and road safety.
RSPB
Thank you to the RSPB who visited our school. We are always looking for ways to encourage wildlife to visit our school.
Let it snow, let it snow, let it snow!
DT and History
We made some carrot scones, which was a WW2 recipe. No eggs were used at all and they tasted delicious!
The Eye of The Wolf by Daniel Pennac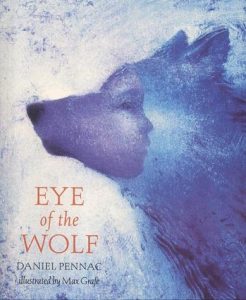 We have recently completed our English class novel for the autumn term – The Eye of the Wolf.  This was originally written in French and translated into English. After we completed the novel we then watched the animated movie in French. We could easily follow the story as we had studied the book and many of the French words and phrases are what we learn in our French lessons.
We Love to read in Y6!
We are still the reigning champions of the Reading Plus programme. We challenge any class to beat us!
HISTORY WW2
We had a great day out visiting The Western Approaches and Liverpool's Maritime Museum where we went on a Battle of the Atlantic trail. 
COMPUTING
In our computing lessons we have learnt how to make our own space invaders game in Scratch as well as creating our own App about WW2. 
HISTORY
We have been lucky to have history workshops in school with a huge timeline and the opportunity to dress up and interact. It was lots of fun.