Welcome to Year Two.
'You have the power to determine your future. You know yourself better than anyone, and it is your choice as to which path you walk in life. You have the talent, you have the means to move as you wish, and you have the final say over your destiny.' (Dr. Seuss)
Autumn Term Curriculum Autumn 2018
Don't forget to logon to Education City using your 'City Pass'.

A great big welcome to all of our new classmates and their parents and carers.  Miss Nurse, Miss Garner and Miss Fitzpatrick have a wonderful journey planned for you. We hope Year 2 will be a year to make you all smile.
Parents and carers will be pleased to know that the children have settled quickly and are already working very hard. They are very keen to rise to the challenge of cursive writing and 'hard' maths in particular! Look what they can already do…
We hope to update our webpage regularly with images of the children's achievements so please browse our class page with your little one as we progress through the year – there will be lots to talk about.
We have sent home copies of letters as we teach them in cursive style and copies of the common exception spellings for Year 2 (and Year 1). Please encourage your little learner to practise forming cursive letters as they are taught in class and their spellings. We have learned that the children who do this make very good progress in class with their writing.
In the meantime, we are of course all still getting to know each other. If there is anything on your mind, please come and see us.
Handwriting challenge:-
Children, can you join c, a and d in three different ways?  c.a.d or  a,c,d or d,a,c …
Maths challenge:
What is 5 + 6 – 3 + 2 ?
Enhancing learning through the use of concrete resources:
We understand that children deepen their understanding by using concrete resources and pictorial representation. The children love explaining and sharing what they know and what they have discovered with each other.
Miss Nurse Challenge:
Three children have a bag of marbles. There are 15 marbles in the bag. How many will they each have if they divide them equally between each other?
Learning to look at the finer detail when sketching
The children have their very own sketching pencil case with a variety of sketching pencils and a lovely sketching book.
Look at their beautiful and realistic attempts at sketching features of the face!
Miss Nurse Challenge:
Explain the difference between colouring and shading to someone in your household.
Deepening Understanding, Securing Knowledge:
Part of committing new learning to the long term memory is explaining what you know to others. In Y2N, we encourage the children to come up to the board to solve problems, explain their thinking and showcase their knowledge! In doing so, they are deepening their own knowledge and helping other learners too.
Remembering The Fallen:
The children made beautiful poppies to add to the wholeschool Remembrance Display in the hall. In a wholeschool assembly we prayed for the fallen and remembered that their brave sacrifices ensured that we have the opportunities we have today.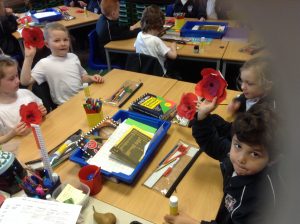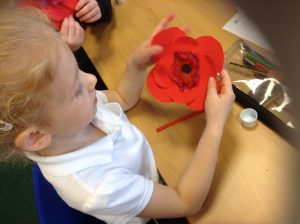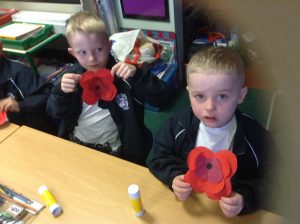 Yummy, Yum, Yum – Pizza in My Tum!
We love to make our children's school experience fun and memorable. Making your own pizza is a fabulous way to reinforce lots of cross curricular learning – measuring (Maths), speaking and listening (English), teamwork (PSHE), creating and designing (Art & Design Technology), Origins of Pizza (History), healthy eating (Science) …
Miss Nurse (hard) Challenge:
How many quarters in 2 whole pizzas?
RSPB Workshop:
Open your eyes and you will be surprised what you can discover right under your nose!
A big thank you to Karen from the RSPB for working with the children to investigate nature as it presents itself in our school playgrounds. (And ALDI supermarket for helping to sponsor the outreach project.) The children enthusiastically took part in a nature hunt using magnifying glasses and a range of other scientific equipment to hunt for mini-beasts and investigate the clues and signs of life all around us such as: nibbled leaves, nests in trees, hidden cobwebs …
Online Safety:
Children loved a workshop on keeping safe online. Altru Drama worked with them to update their knowledge of how to use games and apps and the internet safely. The message was clear. Children of this age should be supervised at all times when using their technology. Games and Apps should be age appropriate and setting should be set and updated regularly by parents/carers. If you are not sure how to adjust setting for games/apps – check out the NSPCC's website for more detailed information.
Supporting BBC Children in Need and the Rickshaw Challenge:
How often do we stop and say "How amazing are our young people?". Well Miss Nurse, Miss Garner and Miss Fitzepatrick certainly did on Friday 16th November!
Questions for Jesus
The children have been thinking about Jesus and they wrote some questions they would ask if they found themselves sitting next to Him! What would you ask Him if you had the opportunity? (How amazing is their handwriting!)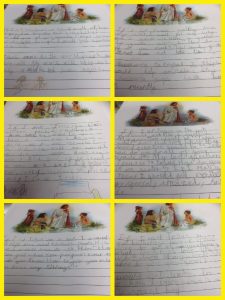 Classroom Kitchen
The children made a Greek Salad using fresh ingredients in the classroom today with Mr Delaney from Classroom Kitchen. They talked about healthy eating and how to make the right choices regarding a healthy lifestyle. The lesson was very hands on and they now know how to cut up salad ingredients using the 'claw' and the 'bridge' cutting methods. I believe we have discovered a few chefs of the future! Watch out Jamie Oliver!
World Book Day
We had so much fun on World Book Day. Of course the best thing was dressing up as the characters from the books and stories we enjoy reading but we also did lots of other wonderful activities through the week: we wrote our own chapter book (The Adventures of Franklin and Bertie; a book about two naughty but loveable puppies who love going on adventures), a book treasure hunt in the school library, lots of reading and English class based activities and we even met a real life author called Jude Lennon!
Challenge:  Can you remember how long Jude Lennon 'left her note book alone' before she looked at her story notes again?