Welcome to Y3W
Click on the link below to view our Curriculum Overview for the year.
Don't forget to use your 'City Pass' to log onto Education City. Click on the link below.

Welcome to Y3W, we hope you enjoy looking at all the fantastic things we are doing this year. This year will be full of learning, laughing and making memories!
Mr Watson and Miss Mallows.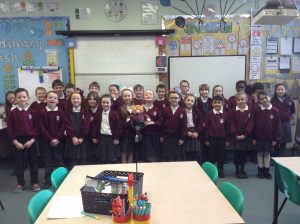 Summer Term
Sports Day
Year 3 and 4 had a great time at sports day. Mr Watson and Miss Mallows are so proud of how sensible the class were not only at the park but on the walk to and from Newsham Park. The children also did very well in all the events and well done to the parents for the brilliant parent's race!
Diversity
We had a special visitor called Donna come to the school to talk to us about what makes us special and unique. Donna also introduced us to a very special friend of hers. Roy G Biv, ask your children who he is. We all so enjoyed meeting him and Donna. It was amazing.
English
After reading The Butterfly Lion, we wanted to look at poetry in year 3. So we had a Poetry week, to go along with national poetry month (this turned into two weeks as the children loved it so much). We looked at two poets one called Rodger McGough, who is from Liverpool, and Gina Douthwaite. We loved writing poems in the style and shape of their poems, but we loved performing them even more, the performances in Y3W were amazing. We have some real budding poets in year 3!
Maths
In Maths this term, we revisited time and used small clocks to add units of time and different times.
We have also looked at right angle turns and degrees of a turn, we did this by trying to navigate members of the class around the classroom.
Perimeter has also been a big focus in year 3, to better understand perimeter, we have measured the length, width and perimeter of different objects in the classroom.
History
In History, we have been looking at Ancient Eygpt. We have had great fun looking at the gods, the pyramids and the mummies. To understand mummification better we turned ourselves into mummies. It was amazing!
Art Day
We had an Art Day were we looked at Vincent Van Gogh. In the morning we painted St Annes church in the style of Van Gogh. We also used chalk to create a starry night. We also painted the bedroom by Van Gogh. In the afternoon we created our names in hieroglyphics on papyrus.
Spring Term
Easter Bonnet Parade
To celebrate Easter in St Annes, we had an Easter Bonnet Parade. The children looked amazing. Well done to you all!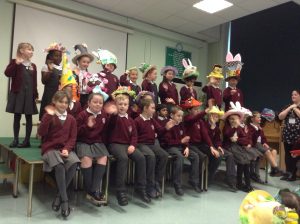 Pen License
The writing in Y3W is so good that some of the children have earnt their pen licenses. We had a big presentation in Praise Assembly. Well done to all who got them. Thier will be more to go out in the summer.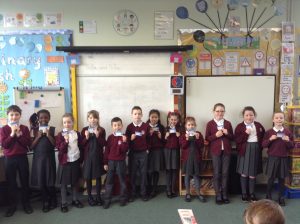 English
In English, we finished our book The Butterfly Lion by Sir Micheal Morpurgo. We loved the surprise ending. To go with our drama workshops we acted out parts of the books.
World Book Day
For World Book Day this year, Year 3 linked up World Book Day with our Family event. In the morning we dressed up as our favourite book characters and in the afternoon we created resources to use with our books. The next day we used the book Matilda and created a scene from the book. We had a great time!
Museum Trip
On Monday 22nd January, Year 3 visited the World Museum in Liverpool to research the Stone, Bronze and Iron Age. We looked at real artefacts found in the Stone, Bronze and Iron Age, we also learned about how they grew crops and how crops have changed. We also got to wear and use replicas of items they would have had in the Stone, Bronze and Iron Age. Here are some pictures from our trip!
English
In English, we have been reading The butterfly Lion by Sir Michael Morpurgo. We have been looking at what it would be like to be one of the characters and using P4C, to debate for and against.
Maths
In Maths this half term we have looked at units of measure, such as Mass, Volume, Length and Time. We have also been looking at fractions.
I.C.T.
In I.C.T. the children have been using Minecraft to build their own Stone Age Houses, based on real designs.
D.T.
In D.T. The children have been looking at linkages and levers, we have been making moving pictures and moving flags.