Welcome to Y2N
Click on the link below to view our Curriculum Overview for the year.
Curriculum Information Autumn 2017
Curriculum Information Spring 2018
"Every child deserves a champion – an adult who will never give up on them, who understands the power of connection and insists that they become the best that they can possibly be."
Rita Pierson
Don't forget to use your 'City Pass' to log onto Education City. Click on the link below.

Hello and a big welcome to all the children and their parents and carers of Y2N!
You will be pleased to know that the children have settled in to their new class very quickly and have shown a level of maturity that is very impressive.  Our Year 2 learning  journey has begun brilliantly. The children have been getting to know Miss Garner and myself – Miss Nurse and we, in turn, have been getting to know them.
Year 2 is a year full of challenging activities and will prepare the children for their Junior education. The children will need to try their best every day but rest assured they will be supported and encouraged every step of the way. You will be amazed at what they will achieve by the end of the year.
There is a big emphasis on spelling in the new curriculum. Please help the children understand the spelling patterns in the words that are sent home each week. Children will also have cursive handwriting lessons. Lots of practise at home will accelerate their achievement in good penmanship – ask them to share the 'Posture Poem' with you!
Please visit our page regularly as we will post lots of photos and learning updates throughout the year. Don't forget to check out our Twitter feed too as we love to post regular tweets!
Please discuss any concerns you have as soon as they arise, this way, we can put them right quickly. Please also ensure that we have updated medical information and equipment such as inhalers and spacers in school.
Miss Nurse and Miss Garner.
Happy and Reflective Times in Y2N
Look what we could see through our window today when we were talking about being the best that we can be!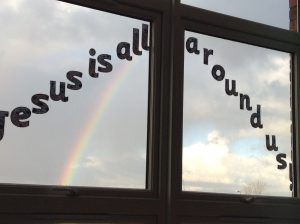 Cross Curricular Learning – Computing and Maths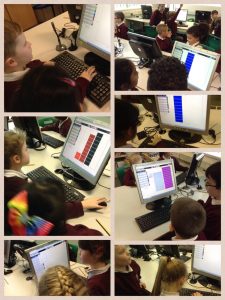 The children have been having lots of fun learning about statistics. Using computer programmes, they have enjoyed learning how to collect and interpret data, produce block graphs and pie charts and write questions based on the data for each other to solve. Well done children – you are becoming sophisticated statisticians!
What amazing artists we have in Y2N! 
The children used their artistic skills to recreate a winter themed picture. They used the edges of cut up pieces of cardboard dipped in white paint to paint 'winter trees' and their very own thumb prints as little owls sitting on the cold branches in the light of the moon. Pictures were finished off with falling snow created with cotton tips dipped lightly into white paint and glitter glue. How proud do those little faces look!
It's Christmas Jumper Day!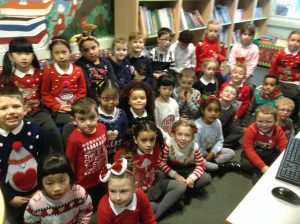 Cursive Handwriting Lessons
Our cursive writing journey has begun. The children are loving their handwriting lessons. Please encourage them to practise forming their letters at home. This will help them to make rapid progress.
Look how amazing their cursive letter formation is already!
Talented Artists!
Artwork with a visiting artist revealed some amazing in-school talent!
Using wax crayons and water colour paint to create their own fireworks display! The technique the children learned is called 'wax resist'.
Ask your child to explain it to you!