Nursery
Welcome to Nursery
Log on to Education City using your 'City Pass'.

A very warm welcome to all of our new Nursery children and their families.
A big thank you for allowing us to visit your home and find out a little more about your child prior to starting Nursery.
Below you will see a selection of photographs taken at our Stay and Play event as the children and their parents became familiar with the nursery environment.
The snack table is proving to be very popular as the children make friends and also develop their fine motor skills.

The snack table is available throughout the session and children are encouraged to be as independent as possible. 

Milk and water is available as well as a selection of healthy snacks.

Once the children are settled in to the nursery routines we will begin taking small groups of children to the local supermarket where they will select their own healthy snacks to buy. Shopping lists are made and children use them to "read" from to make their selection.

In this way children have the opportunity to "read" and "write" for a purpose and embed their counting skills. 

Children will often try unfamiliar food if they see their friends eating it.

 

Each day the children can choose a book from our class library to take home. As well as developing a love of books from an early age, studies show that if children enjoy reading they will "do well" as they progress through school.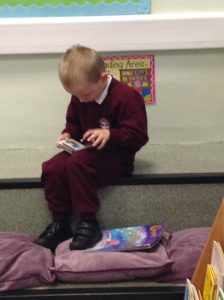 Whilst reading the story of Goldilocks and the Three Bears we discovered that a lot of children had never tasted porridge so we made some and found out that all except two children loved it !!
The children enjoy mark making.
Hammering and pouring helps to develop our fine motor skills.
Maths is everywhere. We have many opportunities to count, compare and play with shapes.
We help each other whenever we can.
We also look after our garden areas. After weeding we were able to plant ready for the Autumn. We had to make sure the plants were the right ones as the weather is getting colder.
Our teachers say they are proud of how independent we are.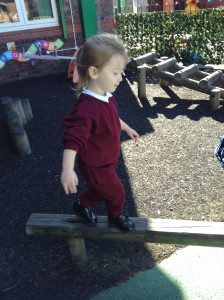 Increased confidence means help no longer needed when balancing across the wooden beam.
We like singing and making music together. Mr Lucas teaches music once per week, I think he will be signing up this group to the school choir!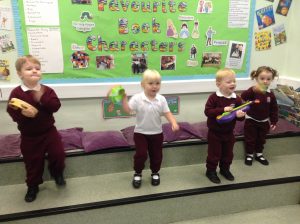 Miss Quinn teaches PE once a week. We always stop and talk about how we are feeling, hotter or cooler? Can we feel our heart beating faster? We teach the children how important it is to keep our body healthy and fit. Outdoor play every day supports our physical development where children have the opportunity to "get out of breath" as well as support their learning across other areas of the Early Years Curriculum.